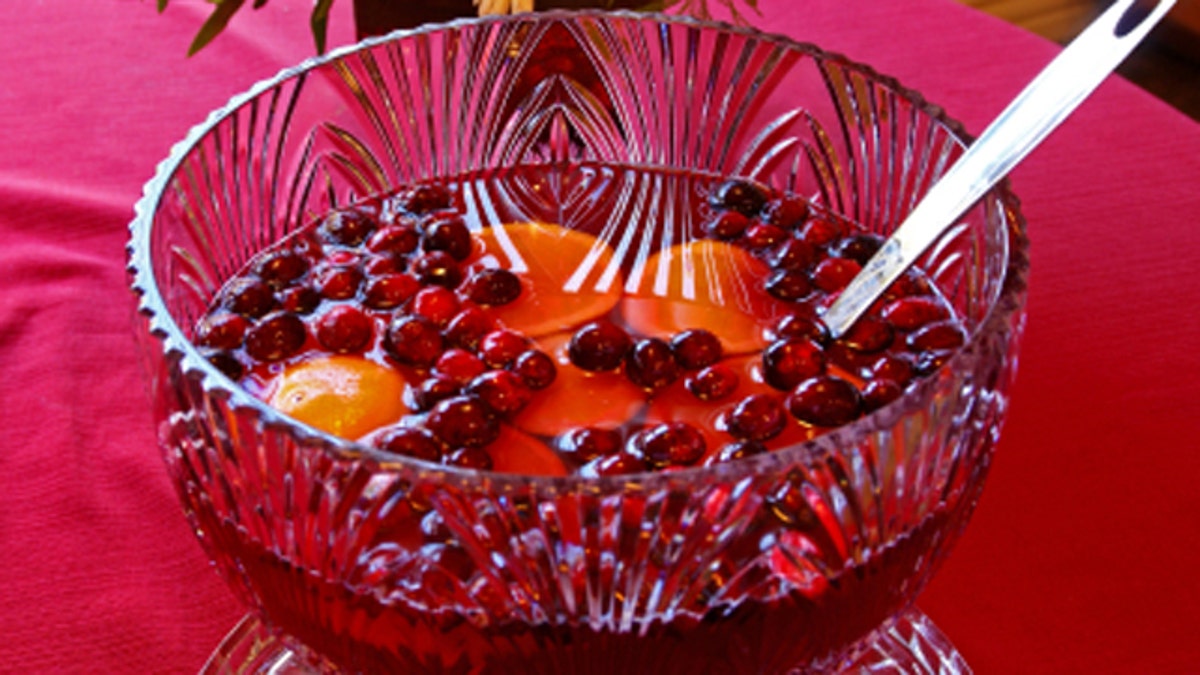 It never fails. Thanksgiving draws a crowd. And while matching wine to turkey gives those with less culinary inclination a chance to shine, a well-made punch can be an even bigger crowd pleaser.
Punch, you may know, it has its roots in England, where it became popular in the mid-1600s and was actually based on an Indian beverage brought over by the British East India Company. Everything from wine to brandy and rum was used, and it was made to be a drink with relatively low alcohol content that could be sipped all night – loosening tongues and inhibitions without knocking anyone to the floor. In modern times, punch lost its luster as neon-colored martinis took over cocktail supremacy, but with the resurgence of classic cocktails, bartenders and amateur mixologists are taking a fresh look at these communal drinks and coming up with modern takes on classic punch recipes.
And if you think punch feels as out of place at Thanksgiving dinner as that weird uncle with the bad toupee, think again. The punch bowl – which you can pick up on the cheap at garage sales, Craigslist, or even eBay – provides a natural gathering place and conversation piece for family members who might otherwise plop down on the couch and ignore one another. Plus, it can be made in advance and no one expects you (the host who's already insanely stressed) to pour them another glass – they can waltz on over and grab another ladle full of deliciousness to make the night go that much faster.
Here are a few bowls that'd be great fits for the big day:
Wassail – A hot punch generally associated with Christmas-time, but since Thanksgiving is traditionally the start of the holiday season it's a nice addition to a turkey-day spread. Plus, the Christmas decorations have been up in stores for at least two months, so there's nothing wrong with getting a jump on things. It's a great drink to warm guests up and open up appetites for the meal ahead, so a crystal bowl of steaming wassail or even a pot on the stove fills the house with holiday smells that make even the most antisocial fourth cousin at least moderately pleasant to be around.
10 teaspoons brown sugar
2 bottles dry Madeira
1/2 teaspoon grated nutmeg
2 teaspoon ground ginger
5 cloves
5 allspice berries
2 cinnamon sticks
2 cups sugar (preferably super fine)
1/2 cup water
1.5 cups brandy (Don't get too fancy here – just grab a solid bottle. The nuances of a high end brandy will get lost in the spices)
Mix all ingredients over low heat in a saucepan until they are warm and the spices permeate the liquid. You can wrap the spices in cheesecloth if you don't want to strain the punch later. Once it's warm you can keep it simmering until the guests arrive, then pour into a bowl. Or, leave it in the pot for people to serve themselves. No one will complain about having an excuse to go in the kitchen and have a chance to grab an early taste of the turkey.
Southern Punch – A little bit sweet with a serious kick, this punch combines Southern Comfort, liqueur and fruit juices in a bowl that puts the sherbert and 7-Up concoction of birthday parties past to shame.
3 cups cranberry juice
1 cup orange juice
1/2 cup Peach Brandy (Hiram Walker is a solid pick, but for rich peach flavor look for Kuchan O'Henry Peach Brandy)
3/4 cup Southern Comfort
Mix the ingredients in a bowl and add a fair amount of ice. It'll dilute the cocktail as it melts, ensuring as people drink it over the course of the night, they'll get less alcohol. Or, skip the ice and sit back to watch the fireworks. Sure a few family secrets might come out in the open, but you'll all be better for it.
Fish House Punch – With the all the talk of American values and patriotic fervor in politics right now, it's only right to have a classic American punch to round out the Thanksgiving menu. Fish House Punch gets its name from the Shuylkill Fishing Company, also known as the Fish House Club, in Philadelphia. The club traces its origins back to the Revolutionary War, when fishermen would guzzle this punch like there was no tomorrow. And since the British could've been coming at any time, maybe they thought there wouldn't be. Either way, it's delicious, powerful enough to make you wonder where your shirt went, and goes perfectly with turkey.
1 1/2 cups simple syrup
1.5 quarts water
.75 quarts lemon juice
2 quarts spiced or dark rum (I use Pyrat, which gives a strong molasses undertone)
1 quart cognac or brandy (Camus VS has some great citrus and butterscotch to it that add impressive complexity to the drink)
4 ounces peach brandy (while there isn't much of it, this is a key ingredient – get the best you can. Peak Peach Brandy has a great balance of sweet and tart to stand up to the rum and cognac.)
Get the largest block of ice you can fit in the punch bowl and put it in. Then mix the ingredients in a second bowl and pour into the bowl with the ice and allow to cool before serving to guests. If it's good enough for a group of hard-drinking colonists, it's good enough for the in-laws!