This actually exists: a 59-item, 8K-calorie breakfast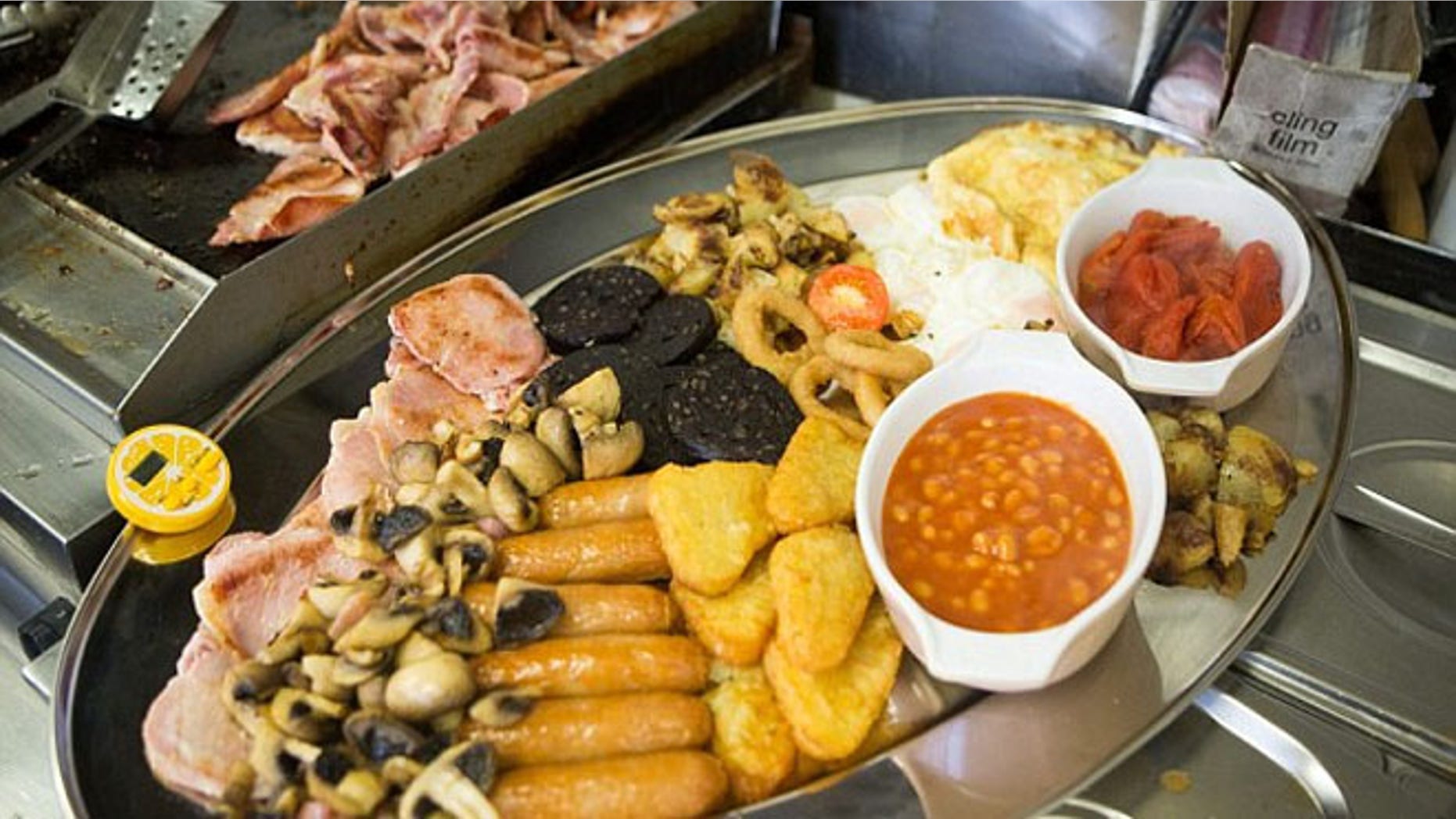 There's waking up hungry and there's, well, this. A British cafe has introduced the queen of all breakfasts, a 59-item spread that packs in 7,778 calories. The Corner Cafe's Monster Mega Breakfast comes across as slightly redundant: It contains eggs and omelets, fried potatoes (four portions) and hash browns, and both toast and fried bread.
Plus bacon, sausages, mushrooms, chips, onion rings, black pudding, tomatoes, and beans. The meal costs about $22.50 and has a time limit attached: Those attempting to polish it off have an hour to do so if they want to win a place on the wall of champions, a breakfast coupon, and a key ring.
They'll be helped (or hindered?) along the way with one of two drinks: their choice of a milkshake or energy drink, reports the Bristol Post.
A manager of the Portishead cafe tells the Post that since being launched last Wednesday, five people have ordered it and none have finished. Quirky side note: No one under 18 is allowed to order it.
The cafe's Facebook page has photos of those who have made the attempt, along with a message to those who have accused it of being wasteful.
Its post begins, "We are just a little family run business who can't save the entire world from famine and starvation!" Could the 8,000-calorie breakfast be the start of a trend? The Bear Grills cafe in Congleton, England, made a splash a few months ago with the launch of its own 8,000-calorie meal, the 7-pound "Hibernator." Sweet tooths may prefer its version, which includes four waffles.
More on it here.
This article originally appeared on Newser: This Exists: 59-Item, 8K-Calorie Breakfast
More From Newser
Couple Has Identical Triplets—Conceived Naturally
Boy Dies 6 Years After DWI Crash