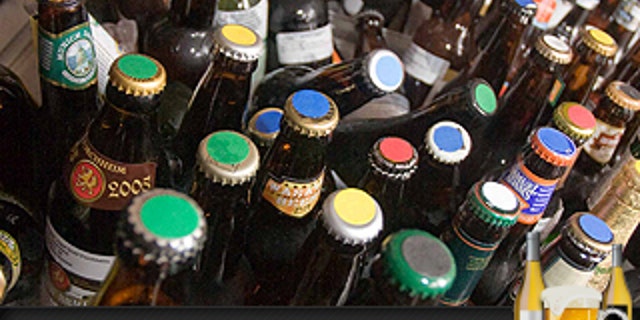 Last weekend in Chicago, 44 countries came together in solidarity to answer one incredibly important question - who makes the best beer? And with 642 breweries on hand to enter more than 3,000 beers in the competition, the only thing certain was that much beer would be consumed and many beer goggles would be worn.
Unlike this year's Winter Olympics, the U.S. still dominates the top of the podium in this competition, taking home 65 gold medals out of the 90 categories of beer, and four of the five brewery awards, leaving hordes of dejected Germans and Belgians to go home crying in their steins. And while some of these draughts are from tiny breweries with just a few taps to their name, many can be found in liquor stores and bars from California to New York.
Below are a few of the best from this year's gold medalists:
Point Horizon Wheat - Taking top honors in the "American-Style Wheat Beer with Yeast" category, this beer from Stevens Point Brewery in Wisconsin is about as perfect for summer as anyone could ask for. Light, with a deep gold color and a creamy head, the beer has a tangy citrus flavor and is an incredibly easy drink - maybe too easy. A perfect warm-weather beer, it's very refreshing, and a six-pack will likely disappear before the 5th inning.
Goose Island India Pale Ale - The clear winner in the hotly contested "English-Style India Pale Ale" category, this draught is heavily-hopped to mimic the original ales exported to India from England, which were made this way supposedly in an effort to better preserve them. Looking like whiskey in the glass, save for the nut brown head, the beer has a somewhat floral and bitter taste up front, primarily from the four different hops used in the brewing process. These flavors are balanced out nicely, however, by an undercurrent of citrus and a solid layer of malt. It's a crisp brew, with just enough carbonation to clean things up for the next sip (or gulp). This is a great bottle to have on hand after the grilling is done and the sun goes down.
Alaskan Smoked Porter - It can be tough to find, but this bottle is well worth digging for. Cleaning up in the "Aged Beer" category, the judges at the World Beer Cup chose the 1998 vintage as their best in class, but the 2009 bottling is still available if you know where to look. The Alaskan Brewing Company was one of the first to bring smoke-flavored beer to the U.S., and the company still is one of the best in the business. Like most porters, it pours deep and dark, with heavy chocolate overtones and some bitterness that really wakes up the tongue and palate. It's the smoke brings that a little bit of weird to the table that could be off-putting to some people. Luckily, it stops just short of overpowering the other elements in the bottle and supplies some subtleties that make this a perfect beer to pair with barbecued and grilled meats in particular, especially with a tangy North Carolina-style BBQ sauce. While it's a bit heavy and overbearing to drink on its own, with dinner it'll deliver the food coma of anyone's dreams.
Sierra Nevada Pilsner - Crisp and clean like a pilsner should be, Sierra Nevada Brewing Company took home the prize for best "German-Style Pilsener," with nearly 70 entries, one of the most heavily-contested categories. A pale golden yellow with a bright white head, Sierra Nevada has managed to strike a spot-on balance between dry hops and a subtly sweet malt flavor. There's a sort of tingly bitter taste with an almost mineral quality to it that isn't for everyone, but provides an interesting counterpoint to what is otherwise a dangerously quaffable brew. Throw a hot dog into the mix and you have ballpark nirvana.
For the full 2010 World Beer Cup results, click here.