The 'tacro' is the latest viral food mashup trend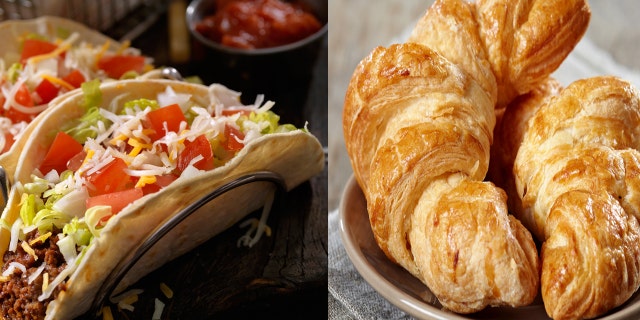 It's barely February and 2018 already has a viral food mashup trend – the tacro.
The tacro, a taco-croissant hybrid, was rolled out in January by San Francisco bakery, Vive La Tarte and has since taken the Instagram world by storm.
'SUSHI DOUGHNUTS' ARE THE PRETTIEST FOOD MASHUP TO INVADE INSTAGRAM
The hearty hybrid is made with a croissant "shell" that is filled with one of three taco fillings – pulled pork, chile chicken with avocado or barbecued jackfruit. According to BuzzFeed, the chefs at Vive La Tarte are also considering rolling out a breakfast version.
The bakery debuted the dish when they opened their second location at the San Francisco Ferry Building, Cosmopolitan reports.
If the flaky and savory concoction seems like something up your alley, you better get their fast. Vive La Tarte's Instagram account has revealed that the $12 tacros have been selling out within two hours of when they go on sale at 11 a.m.
FOLLOW US ON FACEBOOK FOR MORE FOX LIFESTYLE NEWS
All the fame may make the tacro the new official San Francisco treat – or at least the first viral food trend of 2018.