The secret for extra fluffy pancakes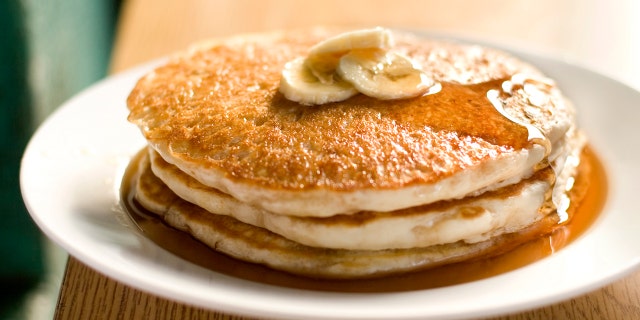 I'm the kind of gal that likes both sweet and savory breakfasts, which means that my diner order generally includes both the eggs, bacon, and toast, plus a pancake for good measure.
If I'm dining with friends, I always try to convince someone to share. "I'll get the corned-beef hash, you get the French toast," I suggest, making sure there is a bread-y reason for using some maple syrup.
Which is to say, when I was asked to figure out how to make fluffy pancakes like they make in diners for Epicurious' collection of "Cook Like a Diner" stories, I was game.
So what makes a good diner pancake? First up, they are big. Plate-size. And buttery, sure. But mostly, they are fluffy. After talking to a few diner chefs and eating lots of different plates of pancakes, I figured out the best way to make fluffy pancakes — and it involves a special secret ingredient.
Add extra air with seltzer water
According to chef John Koutsouris, who runs the grill at The Greeks diner in Kearny, NJ (where several of my Epi pals tasted those lightweight pancakes firsthand), seltzer water is the key to the signature fluff of his pancakes.
Koutsouris used to add milk, eggs, a pinch of salt, cinnamon, and water to a packaged mix for his pancakes. But about 7 years ago, he tried swapping the water out for seltzer. "Water is flat and seltzer is airy, so I figured the bubbles would give them a lighter, fluffier feeling, and it worked," he explains.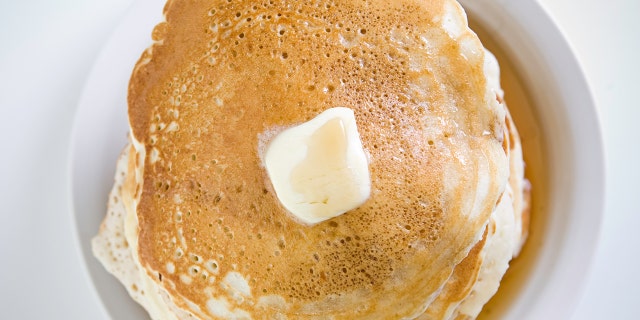 No surprise here: Koutsouris' strategy checks out. In a taste test of seltzer pancakes versus plain-water pancakes, the seltzer pancakes were noticeably more fluffy. Just like using seltzer water in tempura batter makes a light and airy batter, adding seltzer into the pancake mix infuses tiny bubbles of air into the batter, which expand when heated. (Pro tip: Make sure to keep the water cold, as there are more bubbles in cold seltzer than room-temperature.)
Add more flour for extra body
With this intel, putting together a diner-style pancake recipe wasn't hard. I started with my favorite thin pancake recipe — food director Rhoda Boone's buttermilk pancakes — and I swapped in some seltzer water for a portion of the buttermilk, then added a little more flour to give Rhoda's thin and crispy pancakes a little extra body to showcase those bubbles and help them rise in height as they cook.
Use a griddle to cook your pancakes
At every diner, pancakes are cooked on a super-hot griddle, giving them a nicely browned crust and a quick rise in height. You can't install a diner-style griddle in your home kitchen, but a two-burner griddle allows you to turn your stovetop into a diner-style cooking surface, and cook more pancakes faster than you could in a single skillet. If you don't have a griddle, a cast-iron skillet is your next best choice for the best pancakes crust.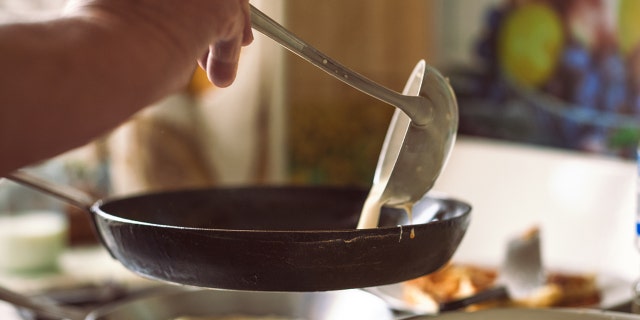 Pour them out by the 1/2 cup
For true diner-style seltzer pancakes, you want them to be as big as your plate, which means you have to pour out 1/2 cup of batter onto your griddle for each pancake. If you want smaller pancakes (which are easier to flip) you can use a 1/4 cup measure instead to pour them out. At The Greeks, Koutsouris makes dozens of pancakes in the course of a busy Saturday, but for a group of four friends (or family), eight pancakes should do it, so I've designed my recipe to make eight plate-size pancakes.
Think beyond maple syrup
Before you douse these cloud-like confections in maple syrup, you might want to try doing what Katsouris does: Try a dollop of strawberry jam on top of your stack. Or consider a fruit compote or maybe even a chocolate sauce. There's only one way to make fluffy pancakes, but there are lots of ways to top them.