The McRib returns to McDonald's, and people are freaking out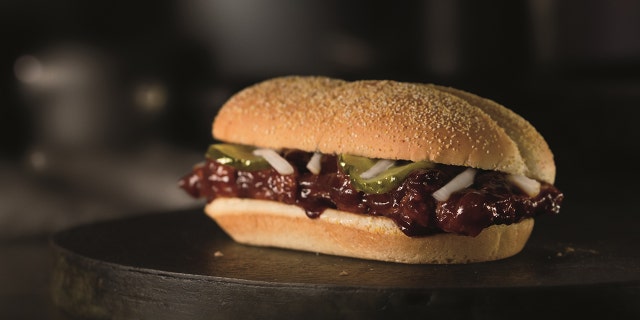 Whether you love it, hate it, can't stand it, or can't get enough of it, one polarizing McDonald's sandwich is sashaying its way back onto select menus.
On Nov. 2, the fast food giant confirmed the return of the McRib sandwich in a press release, stating that it will be available for a limited time only at participating U.S. restaurants.
BURGER KING EMPLOYEE CAUGHT ON CAMERA STEALING CUSTOMER'S FRENCH FRIES, COUGHING ON HANDS
The news doesn't come as a complete surprise — local McDonald's franchises in markets around the country have already teased the return of the beloved barbeque item: McDonald's SoCal tweeted on Monday that the famed McRib will return on Nov. 2, as did McDonald's Hawaii, which will begin serving it up on Nov. 7.
"The McRib is truly an iconic sandwich and has been a fan favorite since its debut on the McDonald's menu 35 years ago," Chef Chad Schafer said in the release.
"Our customers are passionate and tell us they enjoy the sweetness of the barbeque sauce, which pairs perfectly with the hints of pickles and onions. It's more than a sandwich, it's a legend," he added.
THE ONE MCDONALD'S ITEM YOU SHOULD NEVER ORDER, ACCORDING TO AN EX-EMPLOYEE
Last week, McDonald's also sounded off on Twitter, divulging why the elusive boneless pork sandwich is only sold at select locations.
"There's a lot of mystery around why the McRib comes and goes, but to be honest it's a local option based on consumer demand," they wrote in response to a McRib-loving customer on Oct. 23.
As of press time, the McRib has been spotted in almost every state, according to unofficial fan-run McRib Locator website, which tracks sightings of the sandwich in real time.
Further, the highly-discussed sandwich has a juicy history. First appearing on McDonald's menus 35 years ago in Kansas City, Kan., the item was inspired by McDonald's very first executive chef.
Fast forward to the present day, and fans are already celebrating the sandwich's return.
FOLLOW US ON FACEBOOK FOR MORE FOX LIFESTYLE NEWS
Happy hunting, McRibsters.