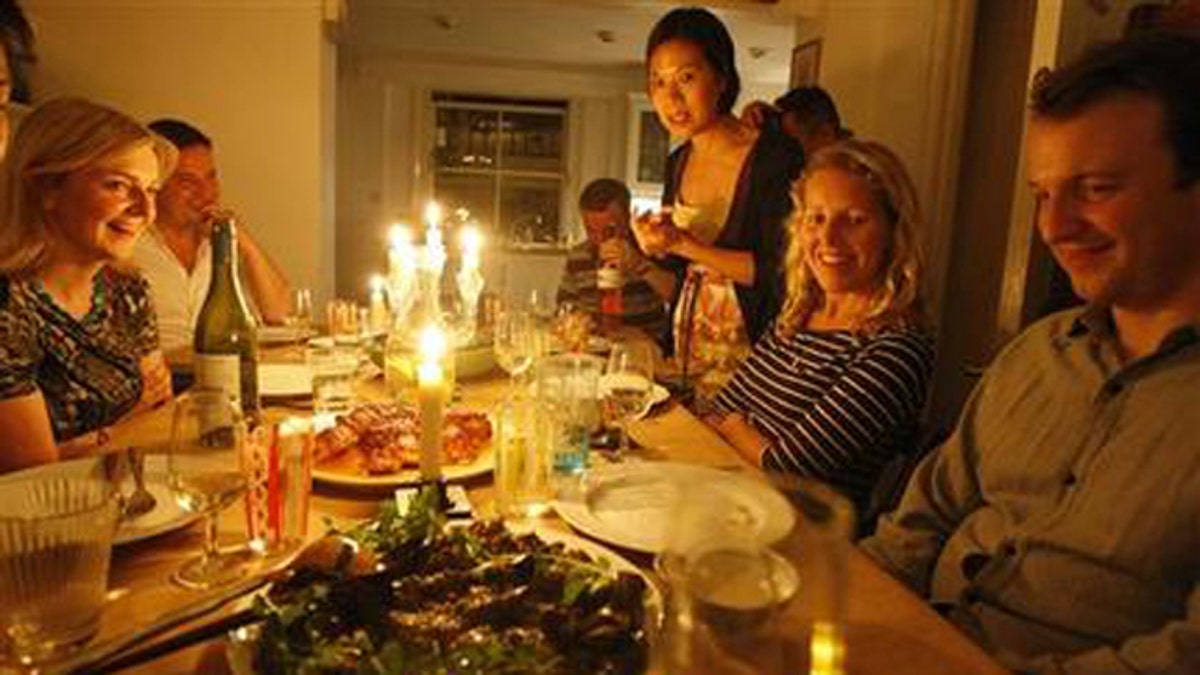 LONDON - On a balmy summer Sunday, Tim Scorer and his girlfriend Emma Jarvis welcome brunch guests to their spacious London flat.
After greeting them, the couple direct their visitors to the garden - a stunning space outfitted with a wood-fired oven - for cocktails and mingling. The scene looks like a typical gathering among friends, except that none of the guests has ever met the young hosts before.
Scorer and Jarvis run The Old Hat Club, one of London's latest underground restaurants. These supper clubs, which grew from a handful a year ago to close to 100 today, are becoming a favored way for London hipsters to satisfy their exacting palates.
They are part of the British capital's vibrant underground scene, which ranges from word-of-mouth dance clubs to booze-filled nights where trendy Londoners play Rebel Bingo, a raucous version of the old-fashioned game, on a dance floor throbbing with heavy metal music.
Venetia Norris came across the Old Hat Club while searching the Internet for a place for her and her girlfriends to meet for brunch.
"I thought it sounded like a fun idea," Norris said, as she sipped on a strawberry, basil and Prosecco cocktail. "A dinner party with total strangers. What I hate is organized fun. This is a relaxed, slightly quirky affair."
Other European cities, including Paris, have their versions of underground supper clubs. The concept also has a strong foothold in Latin America. London's supper clubs are modeled after paladares, the secret restaurants Cubans opened in their homes during the 1990s to earn a little extra income while avoiding government scrutiny.
Most charge between $30 to $155 (20 to 100 pounds) a head. Beyond a welcome aperitif, the clubs don't serve alcohol, so guests are encouraged to bring their own bottles.
London's supper club owners say their primary objective isn't to make money - but rather to reinvent the dining out experience while showing that the British, despite stereotypes, do know how to cook.
A foodie known by her online name MsMarmitelover - after Britain's iconic savory spread - last year opened The Underground Restaurant, one of London's two original supper clubs, out of a desire to liberate diners from the constraints of the traditional restaurant experience.
"I am genuinely interested in people making food from scraps and reclaiming ownership of foods from big restaurants and supermarkets," she said. "For me, there's a political edge to what I'm doing."
Each of London's supper clubs has a distinct personality - but all aim to make friends out of strangers and reflect the city's rich multicultural makeup.
Fernandez and Leluu, run by Uyen Luu and Simon Fernandez - a young couple in London's Hackney ward - has a cosmopolitan vibe. Few of the hip, well-heeled patrons are over the age of 35, and the club has become the darling of some of the city's most prolific bloggers.
"Uyen and Simon make up a great partnership," writes Luiz Hara of The London Foodie. "Their cooking style reflects their cosmopolitan origins and sophistication. Their beautiful flat has an understated elegance about it ... adding to the experience at F&L."
The menu takes its inspiration from Luu's Vietnamese background and Fernandez's Spanish heritage - with traditional English comfort foods thrown in for good measure.
Dishes such as tangy beetroot dip, and Cambodian spicy steak salad paired with chips, have become so beloved that Luu has posted the recipes on her blog.
Meanwhile, Joginder's Supper Club in Angel takes on the atmosphere of a large family dinner.
Guests - a mixed group of 20-something bohemians, journalists, and middle-aged professors - sit in the garden at a long table decorated with table clothes with rich Indian patterns and colors. Spontaneously, they swap seats to talk to others who had been complete strangers less than an hour before. The conversation - which ranges from school-day anecdotes to politics - flows naturally, as though these strangers have known each other all of their lives.
Meanwhile, the lovely smell of coriander wafts through the space as guests munch happily on traditional Indian finger-foods such as vegetable samosas.
Rani Baker uses recipes from her Indian mother and relies on her daughter to help with the cooking. The primary satisfaction the Bakers get from their supper club comes from interaction with strangers.
"It's just a hobby, really," daughter Saira Baker says. "We just enjoy cooking and meeting people."
---
If You Go...
LONDON SUPPER CLUBS: Dining events in private homes, also called pop-up restaurants; tickets are sold online and tend to sell out well in advance.
-Old Hat Club: http://oldhatclub.com/
-Fernandez and Leluu: http://www.fernandezandleluu.co.uk/
-Joginder's Supper Club: http://jogindersupperclub.wordpress.com/
-The Underground Restaurant: http://marmitelover.blogspot.com/
-The London Foodie: http://www.thelondonfoodie.co.uk/