'The Greek Freak' Giannis Antetokounmpo gets reserved table at Milwaukee taco truck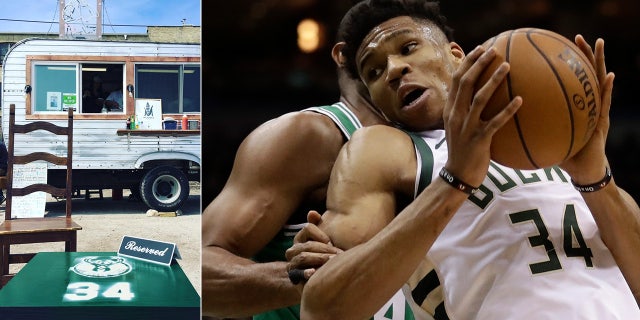 A Milwaukee taco stand has made sure that Bucks superstar Giannis Antetokounmpo will always have a table should he come by for a bite to eat.
Mazorca, a local taco stand that operates out of a trailer, posted a photo on its Facebook page Monday showing that "The Greek Freak" will always have a seat at their place.
MILWAUKEE RESTAURANT APOLOGIZES FOR NOT SEATING NBA'S 'GREEK FREAK' AFTER PLAYOFF GAME
The restaurant posted the photo in response to an incident that took place on Sunday, after Antetokounmpo stopped by Milwaukee's BelAir Cantina, but was unable to get a table because the restaurant was busy at the time, according to the Milwaukee Journal Sentinel.
Antetokounmpo had also come directly from a playoff game against the Boston Celtics, in which he scored 27 points and made the game-winning shot.
A photo taken of Antetokounmpo showed him waiting for a table. The fan that snapped the picture said the Bucks star waited 10 minutes before leaving.
BelAir Cantina later issued a statement trying to stem some of the backlash, according to FOX 6 Now.
"We are very sorry we weren't able to seat Giannis in as timely of a manner as we would have hoped. The Bucks' big win, thanks to his tip in and the team's great play, combined with today's spring weather had people turn out in droves to celebrate and we had quite a wait," the statement read. "We were honored he came in for a celebratory meal, and wish we could have accommodated him right away."
FOLLOW US ON FACEBOOK FOR MORE FOX LIFESTYLE NEWS
The restaurant added that if the Bucks win in Game 6 on Thursday night, they will provide Bucks fans a free taco with any purchase Friday.
Antetokounmpo said he didn't find it to be a "big deal."
"… It was a beautiful day, there were a lot of people enjoying their Sunday brunch," he said. "I've been in the restaurant a lot of times. They are good people."