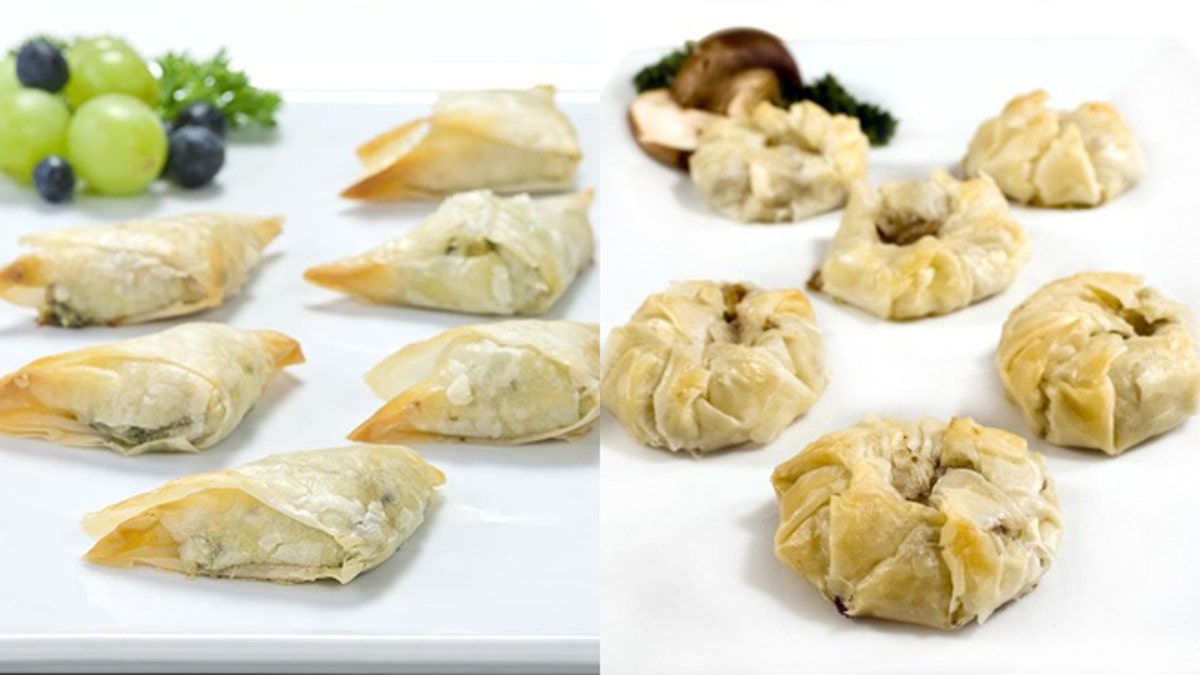 These crisp, flavorful―and easy―appetizers leave you free to enjoy the party.
Snacks and Nibbles
Best Pigs in Blankets
Hebrew National Beef Franks in a Blanket
The flaky golden wrappers on these classic snacks were far superior to the soggy, starchy crusts of their competitors. Several tasters commented on the "real beef" flavor. "The hot dog had an actual ballpark taste," said one, "not like some others I've tried."
Best Mushroom Tartlets
Good Wives Shiitake Mushroom and Spinach Cheese Tartlets
"Very flavorful and elegant," declared a taster of these cups filled with a "winning combination" of mushrooms. More than one person was pleased that the shiitake taste was "not too strong."
Best Spanakopita
Dufour Pastry Kitchens Spanakopita
These handmade triangles are plumped with ricotta salata, fresh parsley, dill, and garlic in addition to the usual Feta and spinach. Everyone commented on the "gorgeous flaky crust," and one tester noted the "great flavor," adding that "Popeye would be jealous."
Best Breaded Shrimp
Seapak Jumbo Butterfly Shrimp
"Nice and firm" was the most frequently heard praise for these breaded crescents. "They don't taste or smell fishy," said a panelist. The seafood lovers noted the "crispy coating and juicy shrimp inside." Pick up some tartar sauce for dipping.
Puff Pastries
Best Beef Puffs
Black Tie Beef and Duxelle en Croute
"These look very fancy," said one panelist of the golden brown puff-pastry rounds. "I like that you get a nice chunk of meat, not some processed filling." Another likened these mushroom-spiked bites to "mini beef Wellingtons." The tender beef had a nicely seared quality.
Best Mushroom Puffs
Dufour Pastry Kitchens Mushroom Truffle Risotto
Tasters liked the "pretty phyllo flower wrapping" of these "earthy, truffle-infused" bundles, though most had trouble discerning any risotto flavor. The "heavenly" mushroom taste was enough for one fan, however.
Best Cheese Soufflés
Nancy's Mini Cheese Soufflé
"They're so light and airy, I could eat them nonstop," said one panelist. "The cheese has the right amount of tang―it isn't overwhelming," said another. "I like how smooth and creamy they are." Added a third taster, "I'd definitely pass these around at a party."
Best Chicken Rolls
Trader Joe's Coconut Curry Chicken Stix
"There's a nice kick of lemongrass and curry," said a fan of these crispy rolls. Spicy-food lovers declared them "mild and delicious," though they packed enough heat to make those with more tender palates reach for water. Serve with a bowl of peanut dipping sauce.
Multicultural Bites
Best Pot Stickers
Kahiki Chicken Potstickers
"A great blend of spices and a nice, firm bite," commented one fan of these golden half-moons seasoned with ginger and scallions. Although on the salty side―as many fried dumplings tend to be―they were praised by a panelist for their "juicy filling and slightly smoky taste."
Best Spring Rolls
Whole Kitchen Vegetarian Spring Rolls
These savory-sweet cylinders from Whole Foods are stuffed with "just the right mix" of cabbage, carrots, and potatoes, said one fan. "They taste fresh," agreed another. "And I love the crispy outside." Serve this snack with a soy dipping sauce.
Best Taquitos
Delimex Three Cheese Taquitos
These mini rolled tacos have a real corn taste. And the "gooey" blend of mozzarella and American and cream cheeses was hard to resist. "Kids would love these," said one taster to general agreement. "A great alternative to the everyday chips and dip," noted another panelist.
Best Samosas
Deep Indian Gourmet 9 Samosa
Tasters were seduced by the fragrant blend of coriander and cumin in these plump pastry pockets. "They have a nice balance of spices that would appeal to all palates," declared one. Another cited the "pleasing texture" of the chunky potatoes and peas in the vegetarian filling.
Get more ideas for holiday hors d'oeuvres at Real Simple
What Is Your Most Unique Holiday Tradition
14 Simple, Beautiful Homemade Holiday Gifts
Holiday Celebrations Around the World
16 Edible Gifts for Food-Lovers