Texas server says patron called him 'terrorist' on receipt, left no tip: 'This hatred still exists'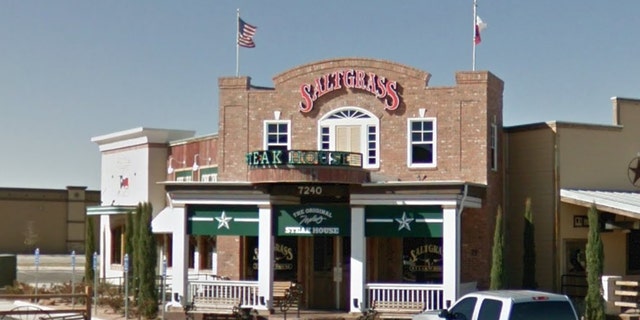 A young restaurant server in Texas says a racist message allegedly scribbled on a patron's receipt isn't going to get him down.
Khalil Cavil, 20, was waiting tables on July 14 at Saltgrass Steak House in Odessa when he collected a check left around 9:15 p.m., only to discover an offensive message written on the receipt. According to a post Cavil shared on Facebook, the patron had circled the name "Khalil," which had been printed at the top of the receipt, and wrote "We don't tip terrorist" next to it.
The patron left no gratuity.
"At the moment I didn't know what to think nor what to say, I was sick to my stomach," the 20-year-old later wrote in his Facebook post, alongside a photo of the note. Cavil, who told Big 2/Fox 24 that, though strangers have previously — and incorrectly — assumed he had Middle Eastern roots because of his name, he was in fact named in memory of a fallen veteran.
WEWORK NO LONGER REIMBURSING EMPLOYEE MEALS CONTAINING MEAT
"My dad was in the military and a buddy that he was very close to, served with him … Khalil was killed in an accident and so my dad just named me after him, one of his best friends," he said. As noted by the Odessa American, Khalil means "friend" in Arabic.
In the days since, Cavil's Facebook post has sparked an outpouring of support, with 2,400 reactions and 885 comments, some of which were left by Facebook users offering to send him the tip money. But Cavil, who is planning to attend Dallas Baptist University, is thinking bigger picture.
"It was not about the money. It was never about the money, it's about shedding the light on an issue I feel very passionate about," he told the outlet of his decision to share the reported story, citing his faith in God as motivation.
"I share this because I want people to understand that this racism, and this hatred still exists. Although, this is nothing new, it is still something that will test your faith. All day I've had to remind myself that Jesus died for these people too," the 20-year-old continued on Facebook. "I have decided to let this encourage me, and fuel me to change the world the only way I know how. So to all the haters out there, keep talkin, [you're] only helping me step into my destiny!"
FOLLOW US ON FACEBOOK FOR MORE FOX LIFESTYLE NEWS
"I just had to think … what would Jesus do in this situation?," he added to Big 2/Fox 24.
Representatives for Saltgrass Steakhouse returned Fox News' request for comment with the following statement:
"We stand by and support our employee. Racism of any form is unacceptable and we have banned this customer from returning to our establishment," company COO Terry Turney said.