Texas restaurant's sign depicting blackface caricature sparks outrage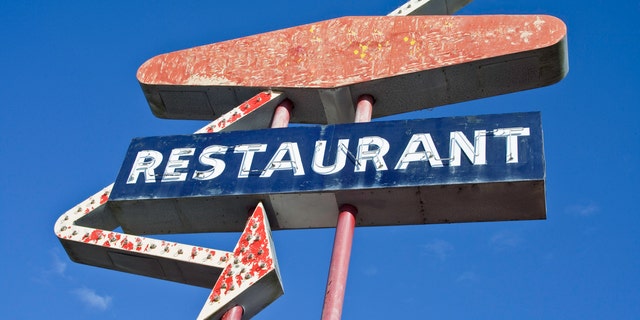 A restaurant in Texas is defending itself against racism allegations after hanging a sign that uses a derogatory term for African Americans and depicts a blackface caricature.
The sign, which features cartoonish blackface with "Coon Chicken Inn" printed on the grinning teeth, has made the rounds on social media with many calling it "racist" and "infuriating."
Cook's Garage in Lubbock, TX, claims the controversial sign is "part of history," according to Everything Lubbock. The restaurant, which reportedly features other vintage signs as part of the aesthetic, denied any racist intent in a now-deleted Facebook post.
RESTAURANT DEFENDS PHOTO FACEBOOK ACCUSED OF BLACKFACE
"Aunt Jemima, mammies, and lots of other black collectibles are highly sought after, as is Americana collectibles with white characters," said the message, The Root reports. "The Coon Chicken Inn was an actual restaurant started in the 20's. Again, we want to stress we do not intend to offend anyone, and are only preserving a part of history that should remind us all of the senselessness of racial prejudice."
Lubbock resident Jasmine Abdullah told Everything Lubbock, that she saw the post on a friend of a friend's page online.
"I was reading the comments, I saw the sign, and I immediately got infuriated," Abdullah said. "Because I was thinking 'In this day and age, we are still having to deal with things like this? ... If we want to be remembered as a group of people, that is not how we want to be remembered. If you want to put a piece of American history or African-American history up, there are tons of people you can have hanging up in your restaurant. Not something derogatory."
Abdullah told the news site that she reached out to Cook's Garage to request they take the sign down. She said she had not received a response.
FOLLOW US ON FACEBOOK FOR MORE FOX LIFESTYLE NEWS
Cook's Garage also declined to comment to Everything Lubbock on whether the sign was still up.
"It was a piece of history in the 20's. This is not the 1920's," Abdullah said, regarding the original 1920's Coon Chicken Inn restaurant. "If they did their history before responding, they would know that restaurant was closed down for that particular reason, for the racial epithets it basically stood on."