Texas couple delivers baby in Chick-fil-A bathroom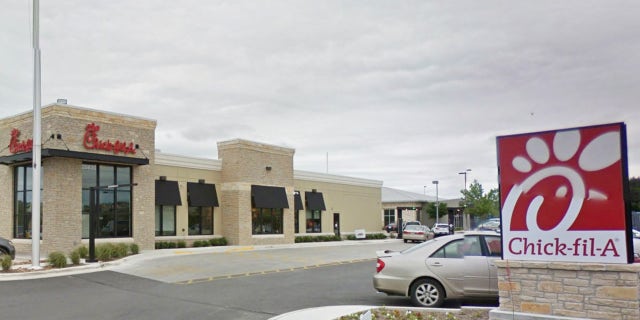 One Texas couple was thrilled to welcome their "little nugget" and third daughter into the world on Tuesday night in the bathroom of their local Chick-Fil-A.
On the evening of July 17, Robert and Falon Griffin were en route to San Antonio's University Hospital around 10 p.m. after the expectant mom began experiencing intense contractions.
While dropping off their two older daughters with a family friend at a meetup spot, the Stone Ridge's location of the chicken-centric chain, she suddenly went into labor.
"I didn't know I was going to have a baby in there! I was going to the restroom," Falon told KSAT of the chaos.
BURGER KING PARKING LOT SERVES AS BIRTH PLACE OF TWO BABIES TWO NIGHTS IN A ROW
Robert, who refers to his wife as Maggie in a Facebook post that has since gone viral, sprang into action.
"By the time we got to the restaurant… it was after 10pm and Chick-Fil-A was closed. After banging on the glass, the staff answered the door and let Maggie in," he recalled of the nigh,t in a post which has since won over 173,000 reactions, 25,000 comments and 73,000 shares.
The pair made a beeline for the bathroom.
CHICK-FIL-A FAN AND PREGNANT WIFE STOP AT DRIVE-THROUGH WHILE SHE'S IN LABOR
"I'm in excruciating pain. He's not skilled. I don't know what's about to happen right now. I don't know if she's going to come out alive," Falon continued, revealing that she and the baby were considered high-risk through her entire pregnancy.
"So there we were.....my wife and I in a tiny stall in the bathroom, and I could see the top of our little girls head crowning as maggie was straddling the toilet. I told Maggie, "Sweetie, we are gonna have to do this right here, right now," Robert wrote.
"I hear high pitched screaming and I was like, okay - this is serious. This is happening. And I got on the phone with a 9-1-1 dispatcher," Chick-Fil-A store director Brenda Enriquez told KENS 5. The Griffins later mused that the fast food employees "couldn't have been more than 25 years old" but remained calm, fetching warm, clean towels from the restaurant kitchen and offering support through the commotion.
FOLLOW US ON FACEBOOK FOR MORE FOX LIFESTYLE NEWS
Around 10:30 p.m., their baby girl made her grand entrance into the world, though the umbilical cord was wrapped around her neck — twice. Acting fast, Robert was "somehow able to unwrap the chord from the baby's neck," and after "two more strong pushes", Gracelyn Mae Violet Griffin arrived.
Her birth took just six minutes, according to her parents.
Ten minutes later, paramedics were on the scene. The new mom and her baby are now healthy at the hospital, KSAT reports.
"Oh my gosh we just had a baby in Chick-Fil-A. I was like, "This really happened. How is this my life right now?"" Falon later exclaimed of the special delivery.
"For all the chaos, we all did amazing. Cut the chord while still in the bathroom, kept Gracie stable and mom calm, and it all worked out....not as planned, but everyone's healthy. Her birth certificate reads "Born in Chick-Fil-A" and the hospital had me sign the birth certificate as the attending physician," Robert quipped on Facebook.
Moving forward, little Gracelyn is set to grow up as something of a VIP customer. KSAT reports that the local operator of the Chick-fil-A where she was born is not only preparing to help her celebrate her first birthday, but has offered her Chick-Fil-A for life and a job when she turns 14.
At 3-days-old, the new baby happily slept in her father's arms at the hospital, fittingly wearing a "Little Nugget" Chick-Fil-A onesie that her parents purchased months ago, not realizing how serendipitous it would be.