Taco Bell employee fired for 'derogatory slur' printed on receipt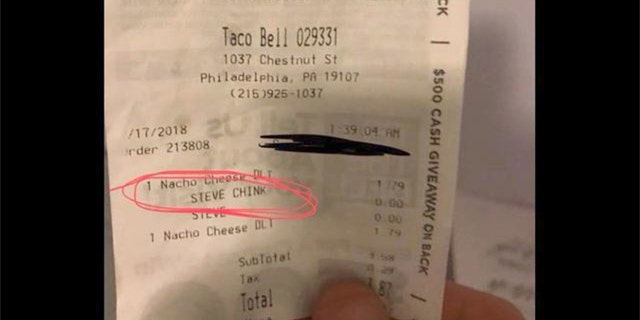 A Taco Bell cashier has been fired after printing a racial slur on a customer's receipt.
In Young Lee, a first-year Ph.D. student at Penn Medicine in Pennsylvania, visited a Taco Bell in Philadelphia at around 1:40 am, after a night out with some friends.
According to Lee, he ordered his food and gave the cashier a fake name of "Steve" to save time, since trying to explain the spelling of his name is "inconvenient for both the cashier and me," he told CBS Philly.
Lee said the interaction was normal until he was handed the receipt and was angered at what he saw printed on it.
"Our interaction was very ordinary and cordial even until I saw my name on the receipt that read 'STEVE CHINK,'" Lee wrote on Facebook.
MAN TRIES TO ORDER TACO BELL FROM DRIVE-THRU BANK TELLER, GETS ARRESTED FOR DUI
Lee said he confronted the cashier who allegedly wrote the slur, but was not happy with the response.
"I was so infuriated that I couldn't help but to confront the cashier. When I confronted him, he said that there are three Steve's in the restaurant so he needed to differentiate. It made me even more upset that he was protecting his case rather than apologizing so I lashed out and told him that it is extremely disrespectful to use such a derogatory slur."
Eventually Lee said he received an apology from the cashier and decided to drop it — until he overheard a conversation between the fast-food workers making fun of him and using the word "chink" again.
"He used the word chink again and they were joking about it," Lee told CBS Philly.
Lee said in his post after hearing the Taco Bell employees continue to make fun of him, he "snapped and stormed to the counter" where he starting yelling and snatched his food from a worker.
The manager approached Lee to apologize for the use of the slur, but then told Lee he was "being disrespectful" by snatching the food from the employee.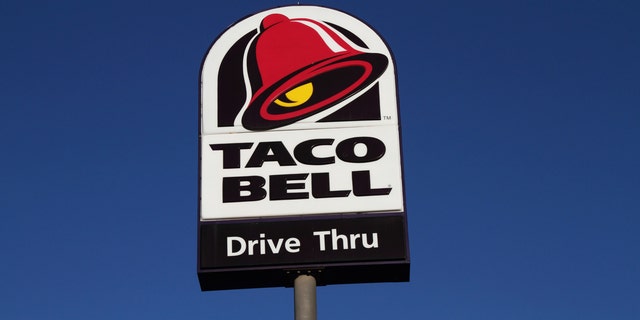 "The manager tried to calm me down, he said I was being disrespectful by snatching my food. I was dumbfounded," Lee said.
"It was as if he was trying to defuse the situation by redirecting the blame on to me," he added.
Since posting his encounter on Facebook, the fast-food chain has removed the employee and released a statement regarding the incident.
FOLLOW US ON FACEBOOK FOR MORE FOX LIFESTYLE NEWS
"We do not tolerate this behavior. This employee no longer works for the brand, and the franchise is retraining its staff to ensure this incident will not happen again. Management has reached out and apologized directly to the customer," said Taco Bell on Tuesday, CBS Philly reported.
Lee hopes his experience makes people think about how their words affect other people.
"I want people to be more aware of what they are thinking, what their behaviors are like," Lee said to CBS Philly.