Super Bowl snack idea: Loaded guacamole with crumbled bacon and cheese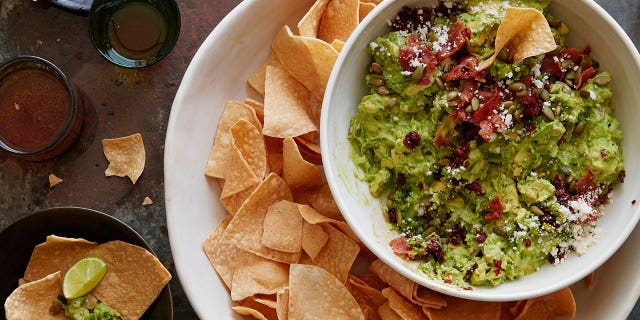 NEWYou can now listen to Fox News articles!
Most guacamole recipes don't have bacon crumbled on top, but Gaby Dalkin makes a pretty strong case for why they should. Dalkin, the author behind the upcoming cookbook "What's Gaby Cooking: Everyday California Food," is somewhat of an expert when it comes to dips and snacks — so of course she's got a recipe in her playbook for loaded guacamole with crumbled bacon and cotija cheese.Try whipping up a bowl at this Sunday's Super Bowl party, then go ahead and sprinkle some extra bacon and cheese on everything else you plan on eating. (Couldn't hurt, right?)

Cook Time:
Prep Time:15 min
Total Time:15 min
Servings: 6
Ingredients:
4 ripe Hass avocados
1/3 cup finely chopped red onion
3 tablespoons freshly chopped chives
1/2 lemon, juiced
1/2 lime, juiced
2 teaspoons finely chopped jalapeno
Kosher salt and freshly cracked black pepper to taste
2-3 strips of bacon, crumbled
1 jalapeno, roasted and chopped
2 tablespoons pepitas, toasted
2 sun dried tomatoes, finely chopped
2 tablespoons cotija, crumbled
Preparation:
Cut the avocados in half lengthwise. Remove the pit from the avocado and discard. Remove the avocado from the skin and place the avocado flesh into a bowl.
Add the lemon juice, lime juice, red onion, chives, salt and pepper. Mash with a fork until half smooth and creamy. Taste and add more salt and pepper if desired.
Top with all the toppings and serve immediately with tortilla chips