Super Bowl snack: Baked buffalo chicken dip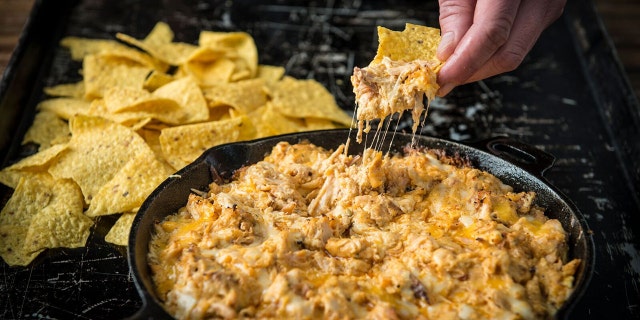 This Super Bowl, one chef wants to make sure you give your guests what they want – meat, cheese and hot sauce, and plenty of it.
Award-winning pitmaster Chad Ward has teamed up with Traeger Grills to serve up an ooey, gooey dip (with a bit of a kick) that is hearty enough be placed front-and-center on your game day menu.
For his particular recipe, Ward uses mesquite hardwood in his smoker, which gives a subtle sweetness to the tangy recipe.
Cook Time:30 min
Prep Time:10 min
Total Time:40 min
Servings: 6
Ingredients:
1 (8-ounce) package cream cheese, softened
1/2 cup sour cream
1/2 cup mayonnaise
2 tablespoons dry ranch seasoning
1 teaspoon kosher salt
1/2 cup Frank's Red Hot Sauce
2 cups chicken, cooked and shredded
1 cup cheddar cheese, shredded
1 cup mozzarella cheese
Preparation:
1. When ready to cook, start the Traeger grill on Smoke with the lid open until fire is established (4 - 5 minutes). Set the temperature to 350 degrees F and preheat, lid closed for 10-15 minutes.
2. In the bowl of a stand mixer, combine cream cheese, sour cream, mayo, ranch, salt and hot sauce and mix with the paddle attachment until combined.
3. Fold in both cheeses and shredded chicken. Transfer to an oven proof dish and top with blue cheese and crumbled bacon.
4. Place directly on the grill grate and cook for 20 - 30 minutes until the top is golden brown and dip is bubbling.
5. Serve with chips, crackers, crostini, or sliced vegetables.