Steph Curry has 'terrible' taste in pizza, wife Ayesha confirms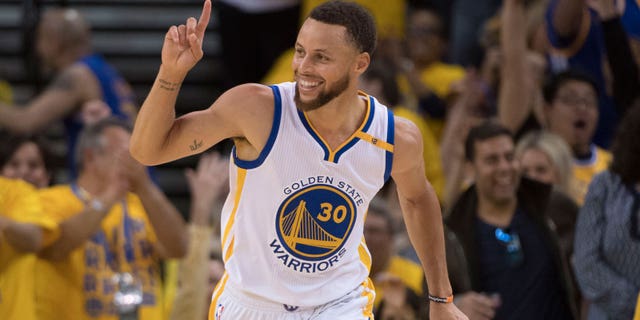 Golden State Warriors point guard Stephen Curry is married to a Food Network personality who specializes in wholesome, homemade meals-- which makes it all the more puzzling that his tastes in pizza tend towards the frozen variety.
During a recent appearance on Eater.com's "Eater Upsell" podcast, Ayesha Curry revealed that her husband was not a "foodie" when the two started dating, and used to complain when she didn't bring home his favorite Red Baron frozen pizzas.
"He wasn't [a food guy] at all," Curry told Upsell's co-hosts Greg Morabito and Helen Rosner of her husband's apparent lack of a gourmet palate.
INA GARTEN SAYS SHE'S EATEN THE SAME BREAKFAST EVERY DAY FOR 10 YEARS
"When we first started dating, he was, like, 'Oh, you went to the grocery store and you didn't get the Red Baron pizza?' And I'm like, 'No. I didn't. I did not get the Red Baron pizza.'"
"He was like a Red-Baron-Pizza, anywhere-pizza [guy]," added Curry, who currently hosts "Ayesha's Homemade" on the Food Network. "Pizza's great, but not every day. He was a chicken-tenders, ramen-noodle guy. But not like the good ramen. Like, the … one-minute joints. And they're delicious; I love them. But not every day!"
To his credit, though, Stephen Curry has broadened his tastes since marrying Ayesha, to the point where even she admits "his palate is broader than mine."
That's not to say the basketball star doesn't have a soft spot for the junk foods he used to love. According to Ayesha, Curry recently took their children Riley and Ryan to the movies to see "Boss Baby," and fed them popcorn, candy and, oddly, some movie-theater pizza.
"Wait, he got movie-theater pizza?" asked Rosner in disbelief. "I've literally never known anybody ever to get the pizza at the movie theater."
"It sounds like he loves terrible pizza," added Rosner, a theory Ayesha quickly confirmed with an enthusiastic "Mm-hmm!"
FOLLOW US ON FACEBOOK FOR MORE FOX LIFESTYLE NEWS
Co-hosts Morabito and Rosner failed to ask whether Stephen enjoys Ayesha's homemade pizza, which is apparently a semi-regular offering at the Curry household. Back in 2015, Ayesha even hinted that the family has an established "pizza night" — and they're not heating up a Red Baron.
But make no mistake — Ayesha is not opposed to pizza of the pre-made variety, either. In fact, Guy Fieri spotted Ayesha chowing down on a slice of pepperoni at the South Beach Food and Wine Festival in Miami this February, where she made her love of all-things pizza abundantly clear:
Ayesha Curry can currently be seen on Food Network's "Ayesha's Homemade." She also released a cookbook in 2016 and recently launched her own meal-delivery service.