Starbucks bringing back pumpkin spice whipped cream in honor of PSL's birthday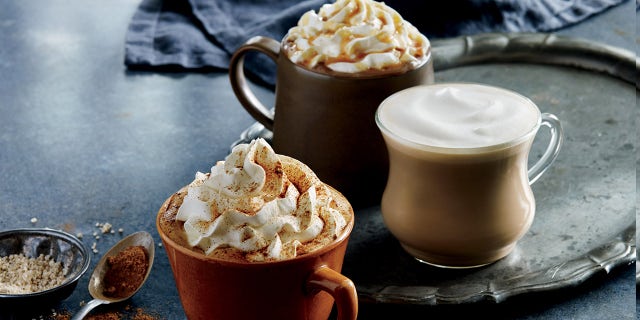 Breaking news, pumpkin spice fanatics: for three days only, you can infuse your Starbucks latte with even more gourd-y goodness.
According to a post on the coffee giant's Facebook page, customers can top their PSL with pumpkin spice whipped cream from Oct. 5 to Oct. 8, in honor of the Starbucks' beverage's 14th birthday. Available at participating locations across the U.S. and Canada, a Starbucks spokesperson confirmed this exclusive promotion to Business Insider.
STARBUCKS RELEASES PSL RIVAL, THE MPL
However, this isn't the first time that pumpkin spice whipped cream — or dare we dub it, "PSWC" — has made an appearance at Starbucks. The spicy whip was reportedly first available last year, in celebration of the drink entering its teenage years. If this latest PSWC recipe is anything like that one, customers can look forward to topping their drinks with a whipped cream crafted with "real pumpkin, cinnamon, ginger, clove and nutmeg."
DUNKIN' DONUTS SHRINKING MENU TO IMPROVE 'DOUGHNUT MOJO'
Considering the history of the PSL, it's no wonder Starbucks is still toying with new pumpkin-spiced items.
As the story goes, the PSL was the brainchild of Peter Dukes, who now serves as director of espresso Americas for Starbucks. Sitting in the "Liquid Lab" test kitchen at the coffee giant's Seattle headquarters in 2003, Dukes and a small group sought to perfect a pumpkin-inspired espresso beverage, which they accomplished by sampling bites of pumpkin pie, following by sips of espresso.
"Nobody knew back then what it would grow to be. It's taken on a life of its own," Dukes said of the beverage in 2014.
FOLLOW US ON FACEBOOK FOR MORE FOX LIFESTYLE NEWS
To date, Forbes estimates that Starbucks has sold at least $300 million worth of Pumpkin Spice Lattes.