Starbucks apologizes after employee is accused of putting racial slur on Latino customer's cup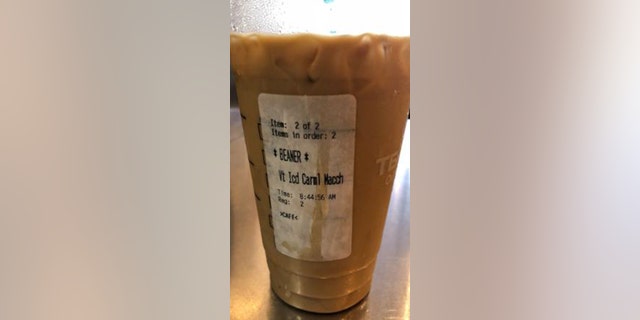 NEWYou can now listen to Fox News articles!
Starbucks has apologized to a Latino customer in California after an employee was accused of printing a racial slur on his coffee cup.
The customer, who goes by Pedro (though a friend also refers to him as Peter in one report) had purchased an iced coffee from a Starbucks in the city of La Cañada Flintridge on his way to work Tuesday, KTLA reports.
Upon arriving at work, however, the man's co-worker spotted the word "beaner" where his name should have been written on the cup.
STARBUCKS PLANNING TO OPEN NEW STORE EVERY 15 HOURS IN CHINA
Pedro's co-worker, Priscilla Hernandez, said she called up Starbucks to complain on his behalf, only to be told the employee had not understood the name Pedro had given, The New York Post reports.
Hernandez then followed up on Twitter (the post has since been deleted) and the company responded by telling Hernandez they had reached out to her co-worker directly.
"Thank you for letting us know, Priscilla. This is not the welcoming experience we aim to provide, and we have reached out to this customer to apologize and make this right," a Starbucks representative named Ryan tweeted in response.
A spokesperson for Starbucks further confirmed to Fox News that the company apologized to the customer in person.
"Our leadership team met with the customer Thursday morning at one of our local stores in the area and he accepted our apology," said Starbucks in a statement to Fox News. "This kind of mistake is unacceptable, and we will take additional steps to assess what happened here and how our partners can be better."
WOMAN ARRESTED FOR DEFECATING ON FLOOR OF TIM HORTONS
Hernandez later confirmed on Twitter that Starbucks has been in contact with her and her co-worker.
Meanwhile, a friend of Pedro's tells KTLA he's been "sad" about the issue.
The coffee cup controversy comes just over a month after two black men were arrested for trespassing at a Starbucks in Philadelphia while they were waiting for a friend. Starbucks has since apologized for the incident, and the city of Philadelphia settled with the men for the sum of $1, plus a grant for the funding of an entrepreneurship program in the mens' names.
FOLLOW US ON FACEBOOK FOR MORE FOX LIFESTYLE NEWS
In response, Starbucks will also be closing over 8,000 of its locations on the afternoon of May 29 to conduct "racial bias training."