Spice up your Valentine's Day with some 'testi-escargot' for two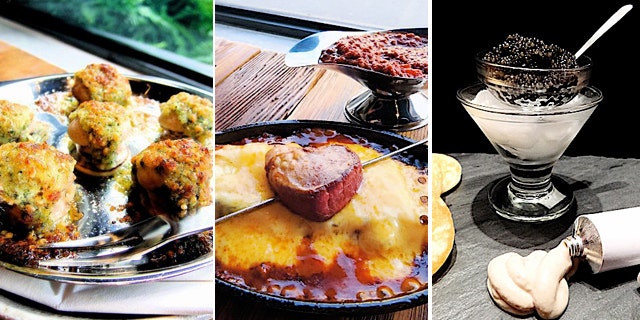 "When I think 'love,' I think 'cheeks,' 'hearts' and 'tongues,'" says chef John Critchley of Washington D.C.'s Urbana Restaurant and Wine Bar.
If your Valentine's plans are absent cheeks and tongues, maybe it's time to regroup. Food to woo potential lovers include lobster, steak and molten chocolate cake. They're good and all, but they lack imagination. They lack boldness. The lack balls. Chef Richard Knight lacks neither.
"Tongue in Testicles is always a good one," Knight says of his sheep testicle and lamb tongue mélange. "They're a bit like sweet breads," he says of the testicles. Still a hard sell, but you go with what you've got.
If food is love then offal is both vocabulary and roadmap. Testicles, brains, tongue --all prepared in delicious ways --is the perfect Valentine's Day delight.
"Nothing says, 'I love you, darling' like Tongue in Breast," chuckles Knight, who with co-owner, chef James Silk, run Houston's acclaimed Feast restaurant. It's where serious food meets English schoolboy humor—they dub their whole cow head dish, Beef Cheeks, Bone-In.
Brits, Europeans, Asians and Canadians habitually consume offal, animal parts other than muscle, while Americans don't. But the more that strikingly talented chefs like Knight, Silk and Critchley experiment with it, the more they create dishes that make us laugh enough to maybe suppress our collective "ick" reflex.
Silk's Tongue in Breast is a pork-on-pork roulade, a technique where meat is wrapped around filling. He wraps pork "breast" (meat from the chest) around a pork tongue, which he slices and pan-roasts to order.
In Toad in the Hole a thin batter is poured over browned sausages and then baked off in the oven until the batter puffs up like a popover around the sausages. Silk swaps out sausage for tongue creating Tongue in The Hole.
Feast sources only from small, family-run farms, so their "funkier things" inventory is sporadic, says Knight. They know their ingredients when their farmers tell them which animals will be soon be food.
When a chef makes his own headcheese and in-house sausages, and also creates tongue (beef and lamb), cheek (veal and pork) and heart (calf) appetizers, it answers the question of what he did with the rest of the animal.
Critchley's demure and literal tongue-in-cheek bar menu at D.C.'s Urbana speaks for itself.
There's warm beef tongue served with lemon aioli, charred cauliflower and espelette pepper, a mild French chile pepper, paired with julienned lamb tongue tossed in a pickled-lime vinaigrette and roasted Brussels sprouts.
He pairs a Vidalia onion and Napa cabbage-braised pork cheek with red wine-braised veal cheek served with Armangnac-soaked prunes. Shaved calf heart with pumpernickel and barley goes with hearts of palm, for vegetarians.
Since we prefer muscle to offal, you'd think we'd have an appetite for hearts. Like other prime cuts hearts are one hundred percent muscle. To help ease the fork-to-mouth transition, New York City's Takashi cuts beef hearts into heart shapes.
Chef Takashi Yagihashi skewers and grills the heart-shaped heart, placing it atop his special, Sizzling Beef Heart Chili with Mochi and Cheese—made with ground beef hearts.
The Tongue Experience can mean many things but at Takashi it's a tongue trifecta: a cow's tongue tip, a meatier bit from the middle, then regular tongue. Marinated in sesame oil and garlic it's seared at your table.
Infelicitously described as "cow balls cooked escargot-style," Testicargot, is Takashi's go-to dish. He tosses veal testicles in a shiso-garlic butter (the Japanese herb, shiso, butter, white wine, garlic, white miso and sesame seeds), grills them and tops with chopped scallions.
If the brain is the sexiest organ (then size does matter), dig in to Calf's Brain Cream aka Head Cream Tube. Takashi boils calf brain, sautés it, then blends it into a paste with cream, butter and blue cheese. Squeeze it out of a tube onto blinis (small, thin buckwheat pancakes) and top with caviar.
Derek Dammann of Montreal's DNA routinely serves up spleen, tripe, horse hearts and piglet blood and chocolate cream panna cotta, but like Takashi he's a master with brains.
Dammann's Big Brain, Little Brain is a brain and a testicle. He sears half a veal brain in brown butter and serves it with preserved Meyer lemons, plating it with a braised, peeled veal testicle with brai-o-naise (brain-flavored mayo) and a watercress, radish and shallot salad.
It's all food that'll make you laugh. And laughter is the best aphrodisiac.
Have a comment or question? Email us at FoxFoodie@foxnews.com