Spam theft and black market sales forcing shop owners to hide product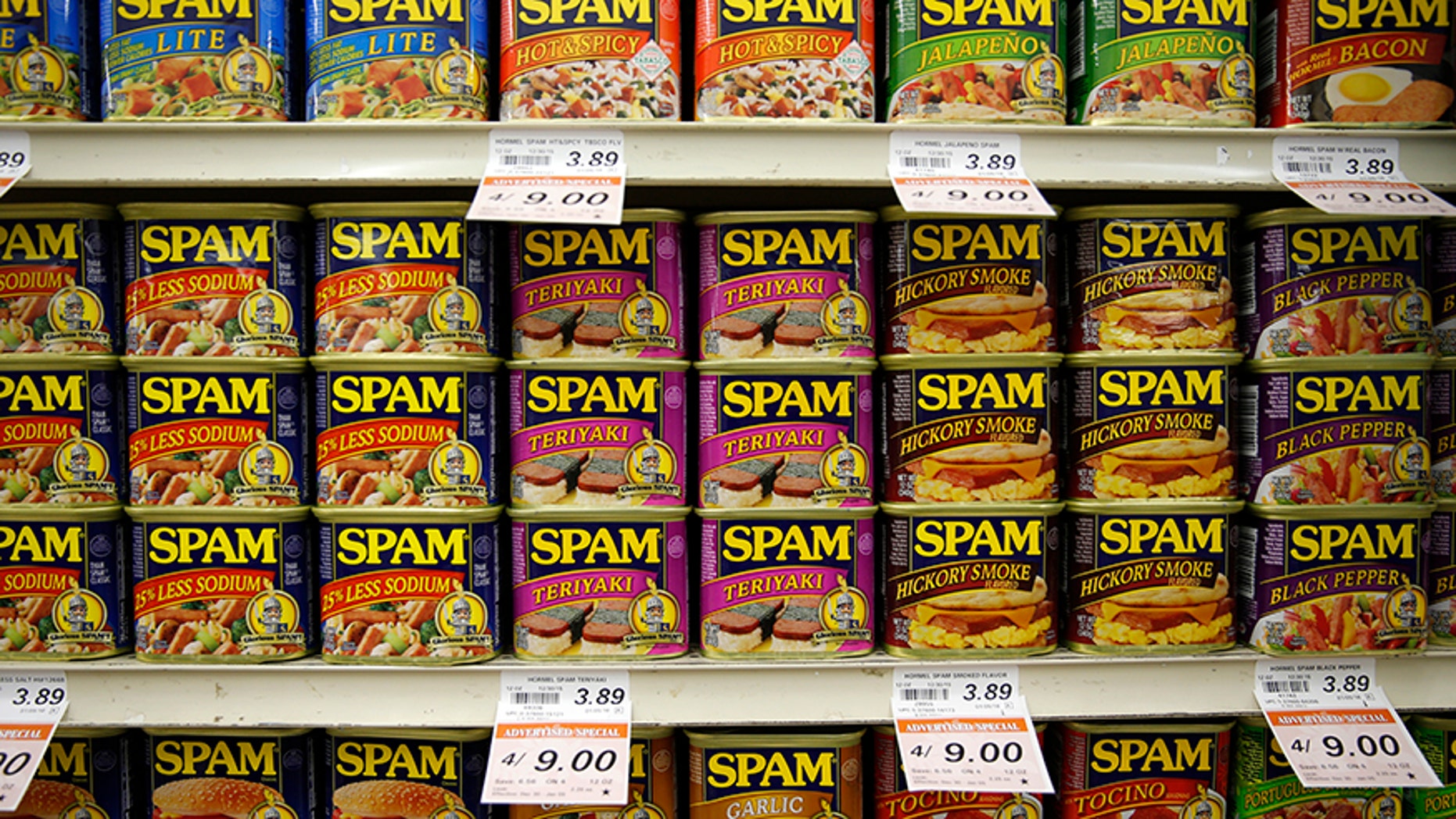 A black market on Spam is booming in such a way that store owners in Hawaii are locking their canned meats behind bars.
Spam — which is especially popular in Hawaii — is now being treated like a luxury item as people keep stealing cans of the cooked meat by the caseload from shops all over the islands.
In Honolulu, police are offering a $1,000 reward for a man who entered a store earlier this month and grabbed a case of Spam. The suspect (and an apparent accomplice) punched a security guard who tried to stop him, the Honolulu Star-Advertiser reported.
Similar thefts have been popping up elsewhere.
GERMAN POLICE HUNT FOR NUTELLA, TRUCK CARRYING 22 TONS OF THE SPREAD
In the Pearl City section of Oahu, a suspect grabbed eight cases of Spam and dashed out of a supermarket at full speed.
"That's when I thought, 'OK, this isn't real. No, he's not going to take it, no, no," customer Arlene Sua told KHON. "Next thing I knew once he passed the register, that's when I heard the intercom [call] management to the front and it was really fast."
Tina Yamaki, president of the Retail Merchants of Hawaii, told the Washington Post that the thieves are probably targeting Spam to sell it on the black market to make a quick cash.
"We've heard they work through middlemen. We've heard that they're selling if from the back of their cars," she said. "We've heard all kinds of rumors. Whether they're true or not, I'm not sure."
Now, businesses are putting the product in plastic cases under lock and key — right next to high-tech products like phones and cameras.
BEEHIVES STOLEN AS NEW ZEALAND HONEY PRICES SOAR; CRIME RING BLAMED
The string of thefts is reminiscent of quick-cash schemes in Southern California in 2013, when police said drug users were stealing Tide detergent to sell or trade for marijuana or crack cocaine.
Similarly, in New Zealand, honey was being considered as liquid gold by organized crime groups that were stealing and trading lucrative beehives on the black market. Not surprisingly, these honey thefts coincided with the rise in the honey industry's skyrocketing prices.