South Carolina grocery store censors 'Summa Cum Laude' on graduation cake, family says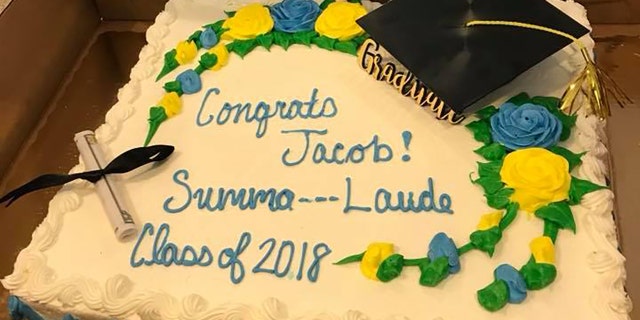 A South Carolina grocery store censored the words "Summa Cum Laude" on a cake that was requested for a home-school graduate, a woman claimed Monday.
Cara Koscinski's son Jacob graduated from a Christian-based home-school program Saturday, but when she decided to order a cake through the Publix website she was told that profane language was prohibited, WCIV-TV reported. She said she clarified her order with special instructions.
MAN STRIPS DOWN ON ROOF OF WENDY'S, HAS STANDOFF WITH COPS
"The website had censored me," Koscinski said, adding that she included a link to another website where the term "Summa Cum Laude" was defined.
Koscinski's husband later picked up the cake from the West Ashley supermarket, but didn't know the bakers had omitted the word "Cum" with hyphens.
"The cake experience was kind of frustrating and humiliating because I had to explain to my friends and family …what that meant. And they were giggling uncontrollably. At least my friends were," Jacob Koscinski told the station.
FOLLOW US ON FACEBOOK FOR MORE FOX LIFESTYLE NEWS
A manager apologized and offered a refund for the cake, according to WCIV-TV. The family said they were looking forward to their son attending Wingate University in the fall.