Shocked Amazon customer receives single package of Oreos in massive box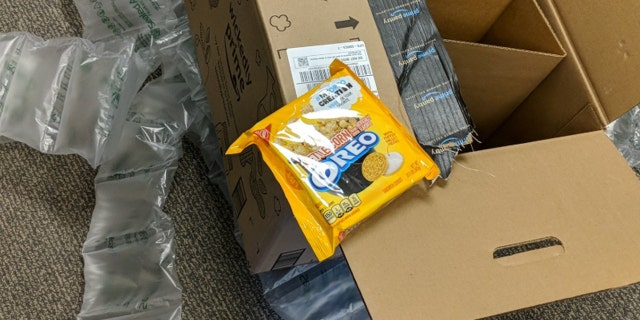 NEWYou can now listen to Fox News articles!
An Amazon customer was shocked to discover the small package of Oreos he ordered was delivered in an absurdly large box.
Jason Howell tweeted a photo of his online delivery, showing the single pack of kettle corn-flavored Oreos next to the empty box.
For added protection, the cookies came padded with an inner cardboard insert and a long piece of bubble wrap.
THERAPY DOGS LINDA, MISS PEANUT GET PICTURES IN SCHOOL YEARBOOKS
Howell also shared a video of himself unwrapping the unusually large box.
"There's nothing in here," Howell says as he pulls out the bubble wrap. Then he pulls out more plastic padding before discovering the cookies.
"This box had this package of Oreos in it. What the…?" he says.
The Kettle Corn Oreos he ordered are one of three flavors chosen as a finalist in the company's #MyOreoCreation Contest.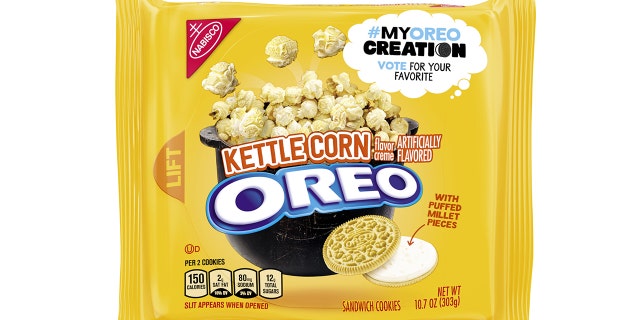 According to a review by Junk Banter, they feature the "golden wafer with a kettle corn flavored creme and puffed millet bits."
The other flavors chosen as part of the contest are Piña Colada and Cherry Cola.
One person on Twitter commented that he "heard somewhere that they choose the size of the box based on what will fit best in truck, not what size item is."
Another commenter agreed, writing that it's "some algorithm they use so packages don't move around too much in the truck during shipment."
FOLLOW US ON FACEBOOK FOR MORE FOX LIFESTYLE NEWS
This isn't the first time someone has called Amazon out for their extreme packaging. In March, a woman received a small boom pole for a microphone inside a 4 feet by two feet box with 30 feet of paper. The box was so large, the woman was able to fit inside.