Sammy Davis Jr.'s Spaghetti and Meatballs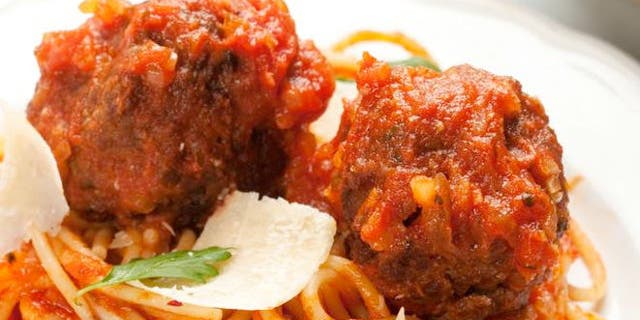 Sammy Davis Jr. told the Evening Independent back in 1966 that his favorite meal, spaghetti and meatballs, came from his early days as a performer on the road --and had nothing to do with his buddy Frank Sinatra.
Cook Time:40 min
Prep Time:20 min
Total Time:1 hours
Servings: 8
Ingredients:
3 Large onion, yellow coarsely grated
1 Large green pepper, coarsely grated
1/4 Cup olive oil
16 Ounce tomato sauce
12 Ounce tomato paste
1/3 Cup water
1 Clove garlic
1 Bay leaf
1/2 Teaspoon dried basil
1/2 Teaspoon oregano
1 Teaspoon sugar
3/4 Teaspoon salt
1/2 Teaspoon pepper, freshly ground
1 large onion, yellow coarsely grated)
1 1/2 Pound ground round, lean
2 Eggs, beaten
1/4 Teaspoon garlic salt
1 Teaspoon salt
1/4 Teaspoon pepper, freshly ground
Olive oil
Preparation:
Squeeze or strain onions; discarding juice and retaining the pulp. Saute grated onion and green pepper in olive oil 10 minutes, stirring often. Transfer to cooking pan. Add remaining ingredients and mix well. Cook over low heat about 45 minutes, stirring often to prevent burning. Just before serving, remove garlic and bay leaf.
Combine all ingredients except olive oil. Mix well. Form into balls. Brown in olive oil, rotating to cook on all sides. Drain on absorbent paper before adding to the sauce. Cook spaghetti according to package direction. Spoon the sauce and meatball over the spaghetti. Top with freshly grated Parmesan cheese.