Salad chain Sweetgreen to go cashless in 2017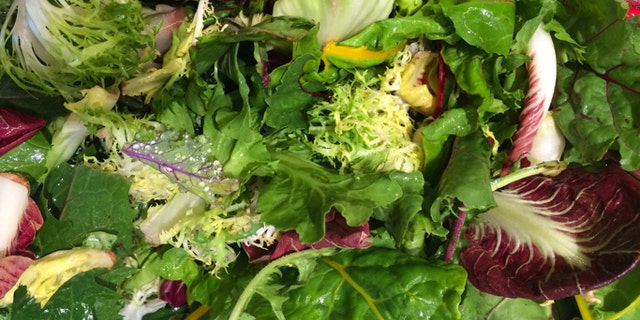 Want to grab something healthy for lunch but only have dollar bills in your wallet?
You won't be able to get your eat on at Sweetgreen.
The fast casual chain based in Washington, D.C. is about to go cashless at nearly all of its approxiemately 60 locations throughout the Northeast and California, reports Business Insider.
BILL MURRAY, BROTHERS TO OPEN 'CADDYSHACK' THEMED BAR
On Jan. 18, all Sweetgreen locations in New York, California, Illinois, and Pennsylvania will only accept payment via the eatery's own app or credit card. In March, locations in Maryland, Virginia and the nation's capital will stop taking green for greens in March.
If you live in Boston and love paying with cash and coin, you're in luck. Massachusettes law mandates that businesses accept cash payments so Sweetgreen locations in Beantown are exempt.
So why the big move? Sweetgreen co-founder Jonathan Neman told Business Insider that the chain is always looking to "simplify" its business practices.
FOR THE LATEST FOOD AND DRINK FEATURES FOLLOW FOX LIFESTYLE ON FACEBOOK NOW!
Neman estimates that cutting cash transactions—which account for less than 10 percent of the salad chain's sales currently—will speed up service by 10 percent since employees wont have to spend time laboriously counting bills and change. Plus, he says, not having money in the store will likely reduce the threat of a robbery—and he thinks cashless is the way of future.
"The restaurant industry is so behind on this and so ripe for innovation," said Neman. "It's very, very exciting."
The chain says customers who order and pay online or via the app already make up 30 percent of its sales, so a lot of salad lovers appear to be onboard with the chain's digital platforms. However, Neman acknowledges there are some downsides to forgoing cash payments entirely.
SHAKE SHACK ROLLS OUT GLUTEN-FREE BURGER BUNS
New customers may get confused by the policy so he says restaurants will post clear signage at the front of ordering lines and have plenty of employees on hand to explain. He also knows that not everyone in the U.S. has a bank account—roughly 7 percent of the U.S. population. Neman says he plans to "address this issue through continued community outreach" and may explore different formats to cater to different neighborhoods.