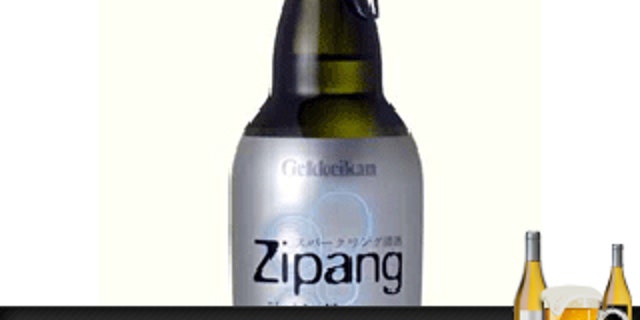 Despite what many people think, sake doesn't just come heated in a carafe with dinner at Benihana. In fact, in the last few years a new type of sake has hit U.S. shores - sparkling sake. It can be a hard to find, but this bubbly version of Japanese rice wine is just about perfect for spring picnics, BBQs or as an alternative for that bizarre friend who wants to watch baseball at your place, but doesn't like beer.
Then again, maybe he's just a Matsui fan.
Sake is made from polished grains of rice and has gained a reputation in this country for being a particularly harsh drink. This is primarily because many restaurants serving hot sake pour fairly low-quality stuff, using the temperature to mask the flavor. In reality, sake often puts forward sweet and floral flavors and is every bit as complex as fine wines. Plus, sake names are spectacular. Onikoroshi (Demon Slayer) and Kanbara (Bride of the Fox) being just a couple examples of the kind of awesomeness the Japanese brands bring to the table.
With names as evocative as standard sakes, these sparkling sakes are no exception. The bubbles, produced by a second in-bottle fermentation just like champagne, tone down the sweetness and help deliver a refreshing drink that's a great match with mildly spiced food, like sushi, teriyaki chicken, or even rich cheeses. Spicy foods will overwhelm the sparkling sake's light flavors, though, not to mention turning the inevitable belches from the carbonation into a potential health hazard.
Some bottles worth seeking out include:
Hou Hou Shu Sparkling Sake - A nigori, or unfiltered sake, Hou Hou Shu has a cloudy appearance and somewhat thicker texture and mouth feel stemming from grain solids that are left in the bottle rather than being filtered out. This can be off-putting to some, but the soft bubbles, coconut and vanilla flavors, and almost marzipan-like aroma make this worth opening. It's lightly sweet, easy to drink and the Hello Kitty-esque bottles are proof positive that you're comfortable with your manhood.
Gekkeikan Zipang Sparkling Sake - Gekkeikan is one of the biggest names in sake and Zipang is a fairly straightforward execution of sparkling sake. Served crisp and cold, it has all the typical flavors of sake with a little added carbonation. Lightly sweet, with a cantaloupe flavor that matches well with the spring season, it's a great drink for a light meal or happy hour. Plus, it's cheap at around $5 for a 250 ml bottle.
Tsuki no Katsura Junmai Daiginjo Nigori Sake - Another nigori sake, but this one is an ultra-premium Junmai Daiginjo, where the rice has been polished to the point where only 55 percent or less of the grain is left. This makes for an incredibly clean, delicate and complex flavor, especially when combined with that second in-bottle fermentation that turns it into a sparkling sake. Overall, this is an impressive sake with heavy yeasty notes and an odd sort of bubblegum and malt flavor. It's definitely not a taste that will suit everyone, but it's well worth trying to see if it works for you.
Ozeki Hana-Awaka "Sparkling Flower" - Remarkably similar to a sweet Italian wine like a moscato d'Asti, this is a lightly carbonated sparkler with huge fruit flavors and a nice tangy aftertaste. It's about as perfect of a brunch drink as is imaginable, cleanly washing down rich hollandaise sauces and bacon. It also mixes well with peach nectar or orange juice for a tasty twist on a Bellini or Mimosa. Just having some on hand for friends whose tastes run toward the sweet would score some serious brownie points, not to mention making you look all sorts of sophisticated and worldly.