Restaurants using receipts to shame diners into eating healthier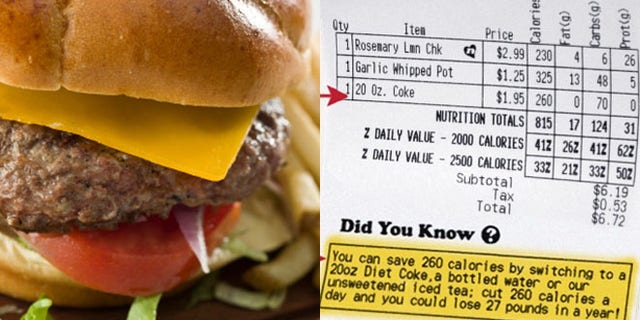 It used to be that after dining on your favorite burger and fries, your receipt would only elicit sticker shock. But now you can add calorie shock to that list.
Bloomberg reports that a company called SmartReceipt Inc. is offering diners a nutritional snap shot of the meal they just ordered –printed on their receipt.
The Nutricate receipt— now available at West Coast chains Burgerville and Silvergreens —features a panel on their bill with personalized information about the total calories, fats, carbohydrates and protein in the particular foods customers just ordered.
It may say something like, "Holding the mayo on your sandwich will save you 150 calories and 10 grams of fat." Or something more positive like "Low-fat milk is a great source of calcium, and you just had over 35 percent of your daily calcium requirement."
Skeptical that a receipt with nutritional warnings can influence meal choices, especially after you've already ordered your food?
Economists Kelly Bedard and Peter Kuhn at the University of California at Santa Barbara studied what happened at 39 Burgervilles for over two years and found that the Nutricate receipt significantly changed people's choices, Bloomberg reports. They found that diners receiving a Nutricate receipt became more likely to order apple slices instead of fries for their kids' meals, and forgo extras like cheese and sauce. The study also showed that Nutricate didn't impact calories because diners continued to order high-calorie entrees.
So will mere information about high cholesterol or calorie contents make people eat healthier food?
After all, it has been shown that calorie counts on some menus don't really impact food choices.
Let us know what you think.