Restaurant faces backlash after shaming teen who paid bill with quarters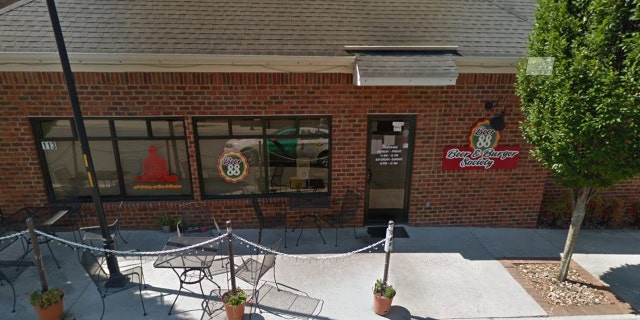 A restaurant was slammed on Facebook after commenting on a teen who paid his bill mostly with quarters.
Beer 88 in Lynchburg, Va., posted a photo on a now-deleted Facebook page, with the caption "'How NOT to pay at a restaurant,'" along with the hashtags "we are beer 88 not a coinstar," and "no home training."
CHARTER SCHOOL TEACHER ON SOUTHWEST AIRLINES FLIGHT RECEIVES OVER $500 IN CASH DONATION FROM STRANGERS
The joking Facebook post did not go over well with Beer 88's audience, sparking major backlash against the restaurant with customers – especially Cohen Naulty, the 17-year-old who had paid his $45 restaurant bill and left a $10 tip with a $20 bill, and quarters.
"It's just U.S. currency," Naulty told ABC News affiliate WSET in Lynchburg. "I'm allowed to use it. It's not Illegal. I'm not doing anything wrong."
Naulty told the outlet he was at the restaurant because he wanted to take the tips he earned as a server at Country Kitchen and treat his friends to a meal. His friends were just as surprised as he was to learn their payment method had been put up on Facebook.
"We couldn't believe they posted it on Facebook," one of his friends said to WSET.
Beer 88 responded to the criticism with a statement, which has also been removed, ABC News reported:
"In response to our earlier post, it was posted as a joke, intended as a joke and should be taken as a joke," Beer 88 wrote on its Facebook page. "It was posted as a light-hearted way of saying that something like this can be annoying to people that work in the restaurant/retail industry. In no way did we publicly shame ANYONE for paying OR tipping. We try to keep our page funny and relatable. And had no idea that this would be offensive to anyone."
However, Naulty and his family did not find the post funny.
"They said we didn't have any home training," said another one of Naulty's friends to WSET. "That was dirty. That was one their hashtags was #nohometraining."
"If anybody met Cohen, they know it couldn't be farthest things from the truth," Kim Naulty, Cohen's mother, told WSET. "And, you know, he's a good kid."
Beer 88 owner Yao Liu told WSET she has been receiving many threats since the post went up and that she apologizes for the post.
"On that part, yes, I do apologize," Liu told WSET.
FOLLOW US ON FACEBOOK FOR MORE FOX LIFESTYLE NEWS
Liu and several customers feel the post has been blown out of proportion. One patron said she hoped the issue resolves itself because the restaurant owners are "friendly people."
"People kind of hopped on the hate train," Beer 88 supporter Carol Henning told KSET, "which seems to be happening these days."
Beer 88 did not immediately respond to a request for comment.
"I love paying for people's meals even if I have to scrape together my last quarters to do so."
Though Naulty told WSET he did not think he would return to the restaurant, he said the incident has made him want to create something positive.
"I love paying for people's meals even if I have to scrape together my last quarters to do so. This whole thing made me realize how much I love doing this and why...," Naulty wrote on a Facebook page called "The Quarter Boy."
Naulty has started a fundraiser campaign aimed at treating someone "once a week" to a free meal.
"We will post videos so that you can see too how big a change just a little 'change' can make," Naulty wrote of his new initiative.