Red Delicious no longer America's most grown apple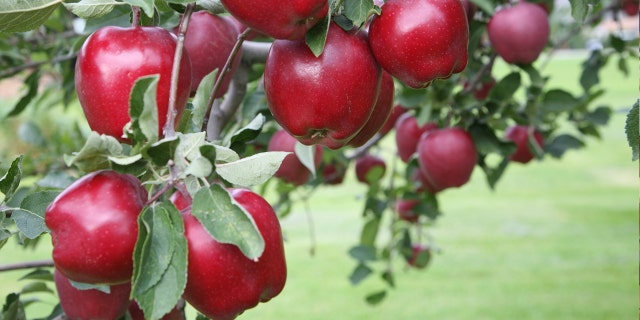 NEWYou can now listen to Fox News articles!
This news will shake you to the core.
The iconic Red Delicious apple is expected to lose its crown as America's most popular apple, a title which the variety has held for over 50 years, according to the U.S. Apple Association.
The organization predicts that consumers will opt for the Gala apple over the classic Red Delicious as summer turns to fall and a new school year begins, USA Today reports.
According to the Apple Association, the Gala's "taste, texture and sweetness" has made it an increasing favorite among shoppers, with growth expected to leap up 5.9 percent to 52.4 million apples of the variety this year.
Meanwhile, production for the Red Delicious is expected to fall 10.7 percent to around 51.7 million, as demands decreases for the fruit.
MEN ARE ASHAMED OF ORDERING VEGETARIAN FOOD, STUDY SUGGESTS
"The rise in production of newer varieties of apples aimed at the fresh consumption domestic market has caused demand for Red Delicious to decline," Mark Seetin, the Apple Association's director of regulatory and industry affairs, said in a statement. The organization represents 7,500 apple growers and 400 businesses in the apple industry across the nation, as per USA Today.
Granny Smith, Fuji and Honeycrisp apples are anticipated to weigh in as third, fourth and fifth most grown varieties, respectively.
FOLLOW US ON FACEBOOK FOR MORE FOX LIFESTYLE NEWS
According to one apple producer, the news comes as no surprise.
"Red Delicious has fallen from grace. I say: Fair enough," Mark Tiogo, a Shippensburg, Pa. area grower, told Public Opinion. "It was bred for aesthetics. I think lot of inherent properties were bred out to achieve the next best Red Delicious."
"There were not many complexities in the eating profile. The textures and flavors of Gala have been very consumer rewarding," he added.