Recipe: Cheddar, Ham and Broccoli Quiches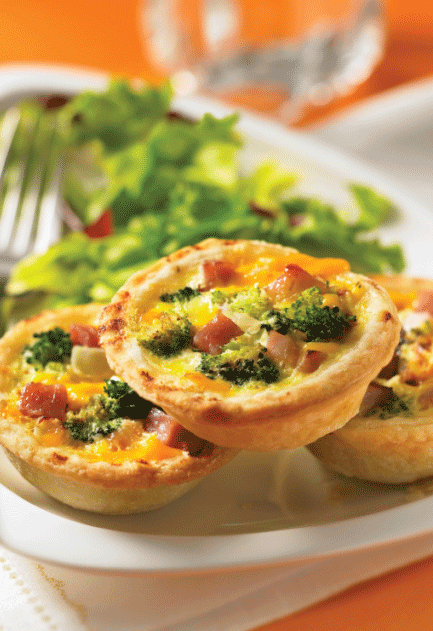 Cheddar, Ham and Broccoli Quiches
Makes 8 quiches
This favorite flavor combination in a bite-size quiche is perfect anytime and any day — from a simple family breakfast to a special holiday brunch.
Tips
If using a store-bought refrigerated pie crust, let come to room temperature, then unroll according to package directions and proceed with the recipe. If you roll the dough thin enough, you can cut 8 Babycakes two-crust pie crusts from one 14-oz (400 g) package.
You can use 1⁄2 cup (125 mL) drained thawed frozen broccoli, finely chopped, instead of fresh. In step 2, add it to the skillet with the ham.
Variations
Substitute milk for the cream, if desired. Substitute 2 slices of bacon, cooked crisp and crumbled, for the ham. Omit the butter and cook the broccoli and onion in the bacon fat.
Crusts
Favorite Pie Crust (page 114) or store-bought refrigerated pie crust (see tip, at left)
Filling
1 tbsp butter 15 mL
1⁄2 cup finely chopped broccoli 125 mL
2 tbsp finely chopped onion 30 mL
1⁄3 cup finely chopped cooked ham 75 mL
1 egg
1 1⁄3 cup half-and-half (10%) cream 75 mL
1 tsp Dijon mustard 5 mL
1⁄3 cup shredded Cheddar cheese 75 mL
Salt and freshly ground black pepper
1. Crusts: Use the large circle of the crust cutting tool to cut 8 crusts. Place crusts evenly on top of wells and gently press into wells with the pie forming tool. If desired, crimp the top edge.
2. Filling: In a small skillet, melt butter over medium-high heat. Sauté broccoli and onion for 3 to 5 minutes or until tender. Stir in ham and sauté for 1 minute or until heated through. Remove from heat.
3. In a medium bowl, whisk together egg, cream and mustard. Stir in cheese. Season to taste with salt and pepper. Stir in ham mixture. Spoon about 2 tbsp (30 mL) filling into each crust.
4. Bake for 10 to 12 minutes or until a tester inserted in the center of a quiche comes out clean and crusts are golden brown.
Excerpted from 175 BEST BABYCAKES® CUPCAKE MAKER RECIPES by Kathy Moore & Roxanne Wyss © 2011 Robert Rose Inc. www.robertrose.ca Reprinted with permission. All rights reserved.