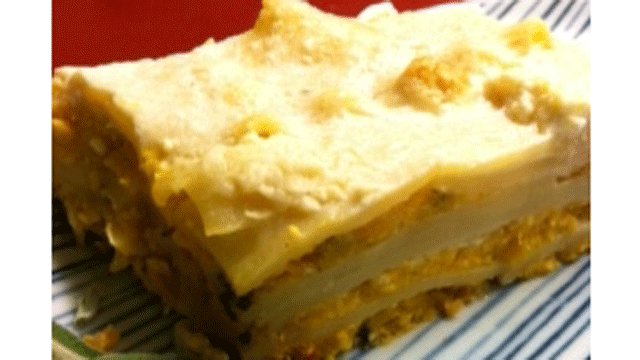 Still trying to figure out what to do with that bountiful harvest of butternut squash? You roasted it, mashed it and did the soup already (maybe a few too many times). Why not try it in lasagna?
I liked the idea of attempting to make a sophisticated dish that could be a great side dish or a stand alone meal, and got the recipe Butternut Squash Lasagna with sage, onions and parmesan cheese from the New Lasagna Cookbook.
A warning: It's not a quick and easy dish, particularly because you have to make a Bechamel sauce. And if you looking to cut calories, don't substitute the whole milk. You really need a thick sauce to bind it all together.
But the outcome is a warm, slightly sweet seasonal dish that everyone likes. My two-year-old devoured it, and it was even better the next day.
Butternut Squash Lasagna
Serves 6 as a main dish or 8-10 as a side or appetizer
Ingredients:
Sauce:
1 quart (4 cups) of whole milk
5 tablespoon unsalted butter
5 tablespoon flour
dash of grated fresh nutmeg
salt and pepper
Directions:
In a large glass dish, microwave the milk on medium until just hot. In a medium saucepan, melt the butter. Whisk in the flour and continue to whisk until bubbly for one minute. Slowly whisk in the warmed milk and continue whisking over medium heat until all the milk is used and the sauce thickens. Let boil gently for about one minute, stirring constantly. Remove from heat and add the nutmeg, salt and pepper, if desired.
Ingredients
Squash/onion mixture:
1 medium whole butternut squash
1 Vidalia or sweet onion, chopped
8-10 fresh sage leaves
salt and pepper
olive oil
1 cup ricotta cheese
1 egg, beaten
1/2 cup parmesan cheese, divided
Directions
Preheat oven to 375 degrees.
Cut the squash in half and remove seeds. Place squash, onion and sage on a large rimmed baking sheet. Sprinkle with salt and pepper, if desired, and drizzle with olive oil.
Roast for about 45 minutes to one hour until squash is tender. When cool enough to handle, scoop out the meat of the squash with a spoon. Discard skin. Place squash, onion and sage leaves in a large mixing bowl. Mash lightly with a potato masher.
Add ricotta, egg and 1/4 cup of parmesan cheese to squash mixture and mix well.
Noodles:
1 lb. box of lasagna noodles. Do not use the "no boil" noodles. You will have some leftover cooked noodles.
Boil all the noodles in a large pot of salted boiling water according to package directions or about 10 minutes (for the Ronzoni). Drain well and set aside.
To assemble:
Grease a large casserole dish (10x14x2). Spread a thin layer of sauce on the bottom of the dish. Top with one layer of noodles. Spread one-third of the squash mixture on top. Spread a thin layer of sauce on top of that. Repeat two more times ending with noodles and the remainder of the sauce. Sprinkle the top of the casserole with 1/4 cup of remaining parmesan cheese.
Can be covered and refrigerated or frozen at this point. Bring to room temperature prior to baking.
If baking right away, cover with foil and bake for 50 minutes in a 375 degree oven. Remove foil and bake an additional 10 minutes. Remove from oven and let rest for 15 minutes before serving