Recall-risky Blue Bell ice cream going for $10,000 on black market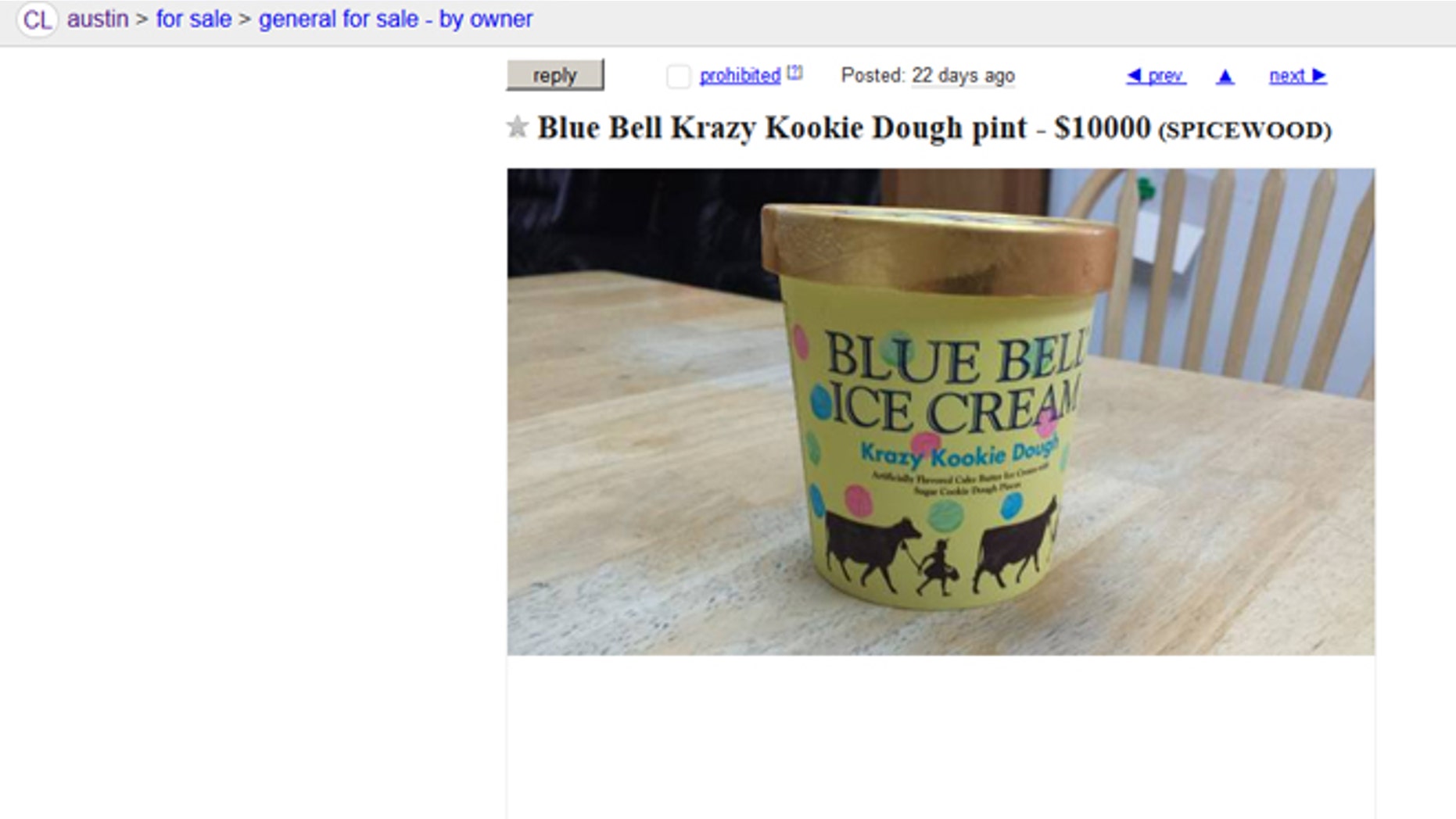 People may be willing to risk severe illness even death for a chance to enjoy some Blue Bell ice cream. At least that's what some clever Texas entrepreneurs are counting on in the wake of recent major Blue Bell recall over listeria concerns.
A black market for highly coveted ice cream has sprung up on Craigslist-- with prices for a pint of "Krazy Kookie Dough" commanding as much as $10,000—that works out to $625 per ounce.
That particular seller assures would-be buyers that this is an authentic Blue Bell product, but makes no reference to its possible contamination.
"What we have here is one pint of unopened Bluebell goodness. Purchased just mere weeks ago, this is like an oasis in the desert for you ice cream lovers," reads the advertisment.  "Buyer assumes all responsibility for transport, and or any Listeria contracted from product as well. I will not distribute by the spoonful or part out. Cash offers only, price is firm."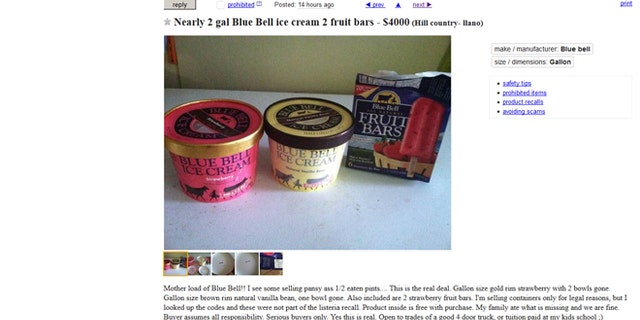 So far the seller has only gotten one offer from someone who wanted to lick the lid for $20, reports KEYE Austin.
But if you're looking for a steal, a half-gallon of unopened coffee ice cream is going for just $2,500 from a seller in Waco, Tex. One particularly audacious seller in Hill county is offering a smorgasbord of possibly tainted treats including two tubs of ice cream and a box of ice pops for $4,000. Not only are tubs pretty much half eaten—but the seller insists that after looking up the product codes, they are not part of the recall.
Still, the best deal might just be a commercial size Blue Bell branded freezer for just $750—hopefully that's listeria free. Just pop in another brand and pretend you're enjoying the real deal.
On April 20, Blue Bell issued a nationwide recall of all its products including ice cream, frozen yogurt, sherbert and frozen snacks due a possible contamination with Listeria monocytogenes bacteria. On its website, the company says that to date it has collected approximately "8 million gallons of ice cream and ice cream products from retailers, institutions and other outlets in the U.S and internationally."
Anyone with a Blue Bell product can ask for a refund and people are advised not to consume any Blue Bell products.
According to the Centers for Disease Control and Prevention (CDC), 10 people across four states have become ill after consuming Blue Bell products. All 10 were hospitalized—three in Kansas died-- but the CDC noted that the onset of those illnesses dates ranged from Jan. 2010 through Jan.2015.
Blue Bell does not have a firm timeline for when its facilities will be back—and products will be back on store shelves—but they are estimating it may take several months.