Pregnant woman maliciously trips child in restaurant, causes concussion, goes viral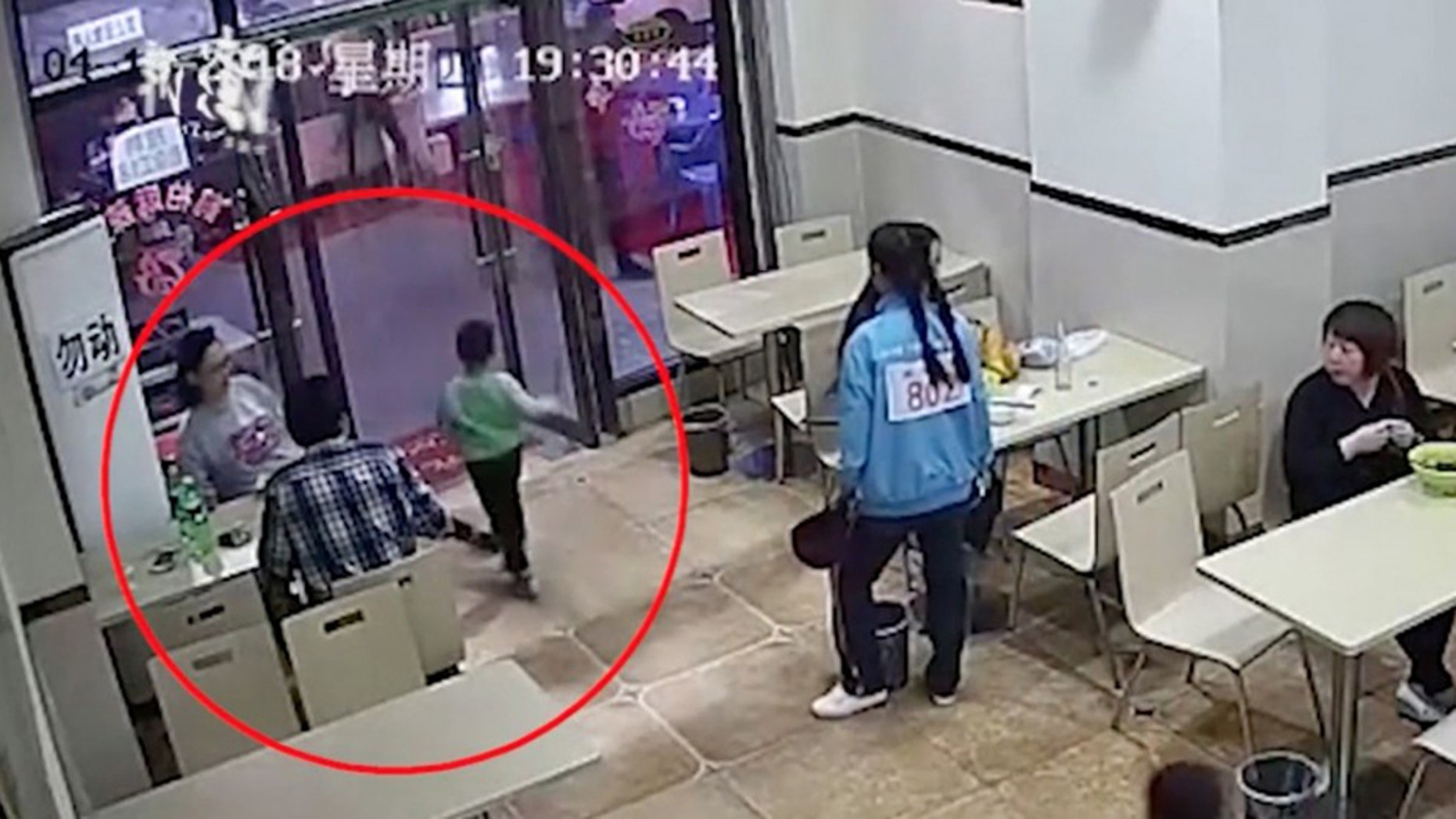 Noisy young children underfoot may sometimes irritate adults dining out, but one woman in China is being denounced across the Internet for maliciously tripping a 4-year-old boy with a heart condition at a restaurant, giving him a concussion.
Surveillance camera footage of the scene has gone viral in the wake of the April 19 incident.
At a small eatery in Baoji, located in the Shaanxi province of northern China, an unnamed woman, who is seven months pregnant, grew annoyed when the youngster ran into the restaurant, effectively whacking her with a door curtain as she sat near the entrance, the South China Morning Post reported.
Moments later, as the boy skipped out of the restaurant, she stuck out her leg and he tripped, falling to the ground.
JOANNA GAINES REVEALS WHAT SHE ALWAYS KEEPS IN THE FRIDGE
The woman was dining with her husband, and the pair went on with their meal as the child lay injured. They soon exited the restaurant without offering help, Xinhua News Agency reports.
Making matters worse, the child suffers from a heart defect and had to be hospitalized for a mild concussion after the fall.
According to News.com.au, the boy is the son of a neighboring restaurant owner, who followed his father's instructions to go into the restaurant to get some chopsticks.
JUDGE RULES NEW YORK CITY BAR CAN REFUSE SERVICE TO TRUMP SUPPORTER WEARING MAGA HAT
"At first I thought my boy tripped himself, but later he told me that the woman tripped him, which was confirmed by other customers in the shop. I checked the CCTV and was so angry that I called the police," the boy's mother told China Youth Daily, according to the China Post.
The child was still hospitalized as of April 24 in stable condition.
Since the footage started circulating online, the pregnant woman has been chastised for her actions.
"As someone who is soon going to be a mother, this act is really shameful," one commenter wrote on Weibo, a Twitter-like platform popular in China, the Post reports.
"Do some good things for the baby in her tummy, please," another mused.
FOLLOW US ON FACEBOOK FOR MORE FOX LIFESTYLE NEWS
On April 20, the woman who tripped the boy turned herself into authorities, apologized, and offered to pay any medical fees. Though she could face legal actions, the mother of the injured boy says the family does not plan to press charges.
"Police said they would detain her for 10 days and penalize her 1,000 yuan (U.S. $160), but she is seven months pregnant. We do not wish to affect her," the mom said. "I have children myself. I can understand."