Pizza Hut unveils new overstuffed pizza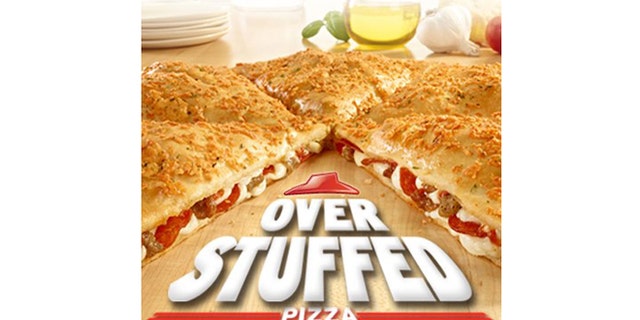 Stuffed crust is so 1995. Now, you can get your entire Pizza Hut pizza stuffed.
The chain's new Overstuffed Pizza features one of two toppings, along with cheese and marinara sauce between two crusts. The two topping combinations (if they are still considered toppings when they are technically inside the pizza) are the Supremo, which is made with Italian sausage, onions, bell peppers and mushrooms, and the Italian Meat Trio, which includes pepperoni, Italian sausage, and pork sausage. Both are finished with shredded parmesan and Italian seasoning.
The Overstuffed Pizza appears to be a calzone with the marinara sauce already inside. As Brand Eating points out, it certainly resembles Pizza Hut's P'Zone.
"Go all in with 6 jumbo slices loaded with pizza sauce, toppings, and cheese, sealed between 2 golden crusts," Pizza Hut says on its Facebook page.
The new pizza is available for $12.99.