Peacock wanders into liquor store, causes $500 worth of damage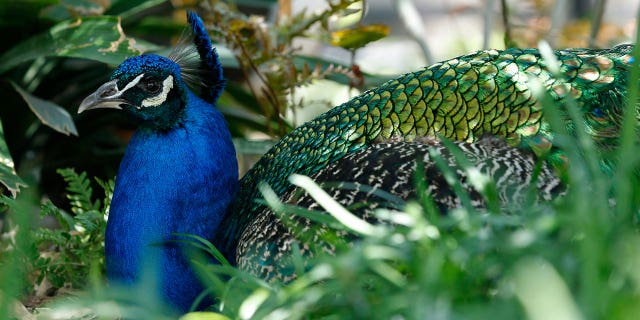 NEWYou can now listen to Fox News articles!
It isn't exactly a bull in a china shop, but it's close.
A wild peacock caused hundreds of dollars' worth of damage after wandering into a Southern California liquor store on Monday — and the craziest part is, he wasn't even drunk.
Rani Ghanem, the manager of Royal Oaks Liquors in Arcadia, Calif. claims that the colorful bird entered the store through the front door — which was propped open — but couldn't seem to find its way out, reports the City News Service of Southern Calif.
SOUTHERN COMFORT WILL SOON CONTAIN ACTUAL WHISKEY
"A lady said, 'Hey, uh, you have a bird inside your store,'" recalls Ghanem, who admitted to being at a loss over what to do next.
Ghanem also tells CBS Los Angeles that the peacock, presumably in a panic, decided to fly directly at him.
"I didn't know they could actually fly high, but it flew up above the counter and it landed here on top of the ice cream freezer," explained Ghanem.
The peacock then settled atop the store's wine shelves, where it apparently planned to settle in for the long haul. Ghanem even says that a number of patrons made purchases while the peacock watched from above, and a few of his braver customers even stopped to pose for pictures with it, as seen in the video footage below. (Warning: Language is slightly NSFW.)
COSTCO'S SIGNATURE LIQUORS ARE BOOSTING STORE'S BOTTOM LINE IN BIG WAY
"This was really out of my comfort zone," added Ghanem, who can be seen wielding a broom in security camera footage of the incident. "I was kinda scared. I didn't know what to do."
Eventually, animal control services arrived to try and coax the peacock down from its perch by prodding it with a large net and they were successful … at first. The peacock jumped down to the store's center display, thrashing across the top shelf and breaking $500 worth of champagne and wine bottles.
Animal control eventually captured the bird and removed it from the store, telling Ghanem that it would be released at the Los Angeles County Arboretum and Botanical Garden.
FOLLOW US ON FACEBOOK FOR MORE FOX LIFESTYLE NEWS
According to CBS News, peacocks are a protected species in California and feeding peafowl is a crime punishable by up to six months in prison or a $1,000 fine.