Papa John's releasing donut holes for National Doughnut Day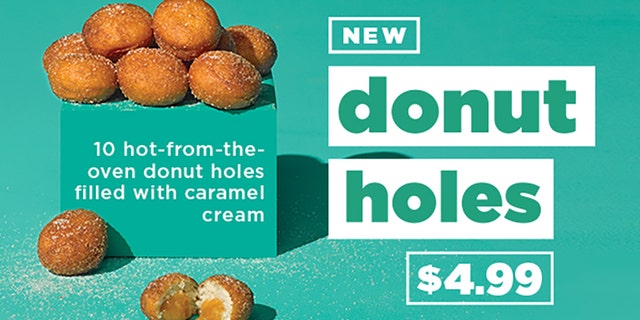 NEWYou can now listen to Fox News articles!
Papa John's is planning to join in on National Doughnut Day this week by releasing its donut hole dessert item.
"For #NationalDonutDay we've got something big in the works," the company tweeted Wednesday. "Well, technically small, but also big. And sweet."
National Doughnut Day takes place on Friday -- which is when WRAL says "customers will receive a free order of warm donut holes with any online pizza purchase."
The dessert will reportedly be a "limited time" option after the big day is over.
Papa John's received a handful of comments about the treat on Twitter.
"Sigh, I hope one day you make gluten free desserts too. You have so many good things already I can't have," one Twitter user wrote.
Papa John's wrote back, "We would be more than happy to forward your suggestion! We want you to be able to enjoy the desserts too."
"OHHHHH CAN'T WAIT!!" another person on Twitter wrote.
Facebook commenters also weighed in on the news with various reactions.
"As long as they're not filled on the inside," one person on the site said.
"OMG! OMG! OMG! Those look yummy!!!" a Facebook commenter named Tammy chimed in.
SHOCKED AMAZON CUSTOMER RECEIVES SINGLE PACKAGE OF OREOS IN MASSIVE BOX
The pizza company replied, "Imagine what they taste like, Tammy. Pure donut hole deliciousness!"
Replying to another customer, Papa John's said on Facebook that the donut holes have caramel in the middle.
The news also drew other responses.
"No," one Facebook user simply wrote.
A different commenter thought the food item was similar.
"Hasn't Taco Bell sold these for a while?" the person asked.
Papa John's isn't the only chain participating in National Doughnut Day: Burger King and Walmart will offer special promotions as well.