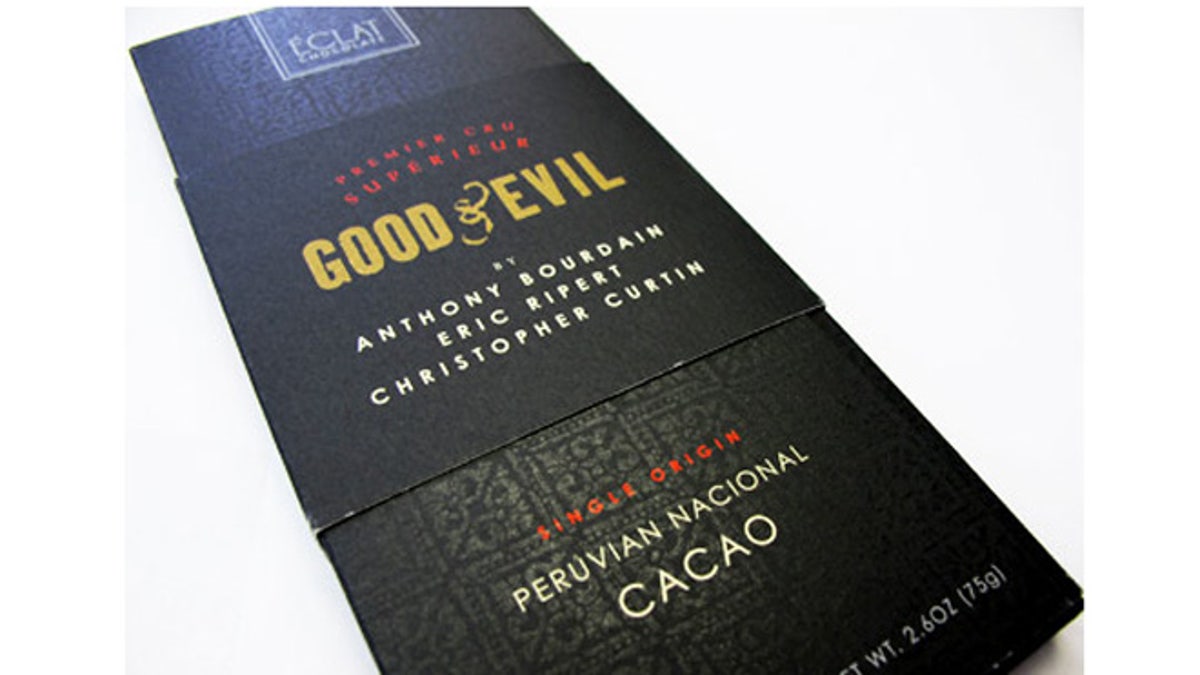 Eighteen bucks for a 75-gram bar of chocolate? Really? That works out to be a Benjamin for a single pound.
Bad boy Anthony Bourdain and French hottie Eric Ripert (New York's Le Bernardin, D.C.'s Westend Bistro, Philadelphia's 10 Arts) are certainly among our top chef crushes, but we can't imagine paying over $100 per pound for their candy bar called Good & Evil unless one of them personally unwraps it for us.
On the plus side, we love the black-and-red packaging of the pair's brand new Good & Evil bar, and we do very much like the silky product itself. The Good & Evil bar (you can take a wild guess as to which toque's naughty and who's nice) boasts 72 per cent Peruvian Nacional Cacao, allegedly the rarest cocoa bean in existence.
Master chocolatier Christopher Curtin, whom the two chefs enlisted for this exclusive project, chose only the Premier Cru Superieur beans from the first harvest on a remote farm in Peru. Next, the beans traveled to Switzerland, where they were processed in an antique conching machine which produces the smooth feel of the delicacy. Now this very international and delectable product is available stateside at Éclat Chocolate. We enjoyed its rich taste, cocoa nib-crunch and sophisticated aftertaste.
We just wish the price tag wasn't so evil.
For more information, visit eclatchocolate.com
MORE ON GAYOT.com
Reviews of the World's Best Chocolates