Outrageous culinary pet vacations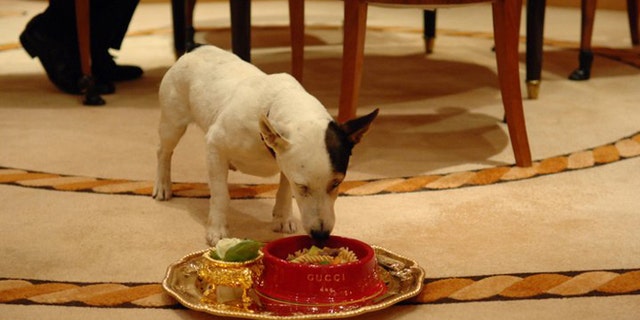 Hotels are rolling out the red carpet, special beds, and more for pampered pets on the go.
Gone are the days of finding Fido a pet sitter or dropping your beloved pet off at a kennel. Luxury hotels around the world are opening their doors to pets with pet packages that are drool-worthy.
From a doggie minibar at The Fairmont San Francisco and luxury soaps and paw rubs at the Vanderbilt Grace in Newport, R.I., to four-legged-friendly fare like tuna and game at Rome Cavalieri in Rome, hotels are offering white-glove service to the world's most discerning travel companions.
When your pet is not spending time at the spa or indulging in decadent delights like Sprinkles Cupcakes, pampered pooches can enjoy dog walking or a nap a Westin Heavenly Dog Bed. Your pet can even consult the concierge for dining, spa, and shopping recommendations.
VIP Pet Program (Rome Cavalieri, Rome, Italy)
The Rome Cavalieri's Very Important Pet service offers special doggy menus like tuna, game and a healthy rice, and a meat and vegetable soup. Dogs can dine in style with personalized cashmere doggy jumpers with your pet's name spelled out in rhinestones. To work off the meal, Rome Cavalieri's 15 acres of parkland offer plenty of opportunity for walks, and a dog-walking service and a dog-sitting service are also available. Afterward, pet staff can accompany your pet to an appointment at La Domus Aventina, a nearby doggy spa, for shampooing, massage, skin treatments, and a stylish comb-out.
Doggie Amenities (Westin Gaslamp Quarter, San Diego, Calif.)
The Westin Gaslamp Quarter has several pet amenities, like the Westin Heavenly Dog Bed®, food and water bowls, a doggie welcome amenity upon arrival, and a convenient dog "business" area, less than a block away from the hotel.
Canine Culinary Room Service and Fido-Friendly Package (The Waldorf-Astoria New York, New York City)
The Waldorf-Astoria New York practices Fido friendliness and rolls out crisp white linens and china service for pups with its Canine Culinary room service menu. Catering to dogs with discerning palates, doggie delicacies include everything from German shepherd's pie (a twist on Grandma's specialty) to Pekingese's duck.
To further welcome furry friends into the luxurious Waldorf Towers, The Waldorf-Astoria has also created a Fido-Friendly package, with pet amenities and a complimentary pet walking. The package includes Tower room accommodation for two, a pet bed, two bowls, a large bottle of water, one complimentary pet walking, and concierge services to assist with pet needs like grooming, pet shopping, and visits to pet spas. Nightly rates start at $569; request the "PET" promotion.
Doggie Mini Bar (The Fairmont San Francisco, San Francisco)
The Fairmont San Francisco has fully refreshed its doggie mini bar to cater to the needs of its most discerning four-legged guests. The hotel has teamed up with San Francisco's Cheengoo Boutique to offer a variety of snacks for purchase, such as cable car decorated cookies and organic peanut brittle cookies, as well as designer pet products, including a lint roller, potty pad, rope toy, and Cheengoo aromatic candle and spritzer, among other goodies.
Vanderbilt Grace (Newport, R.I.)
The Vanderbilt Grace provides its pampered pets with paw rubs, soap-on-a-rope handmade lather, and the option to purchase a custom dog robe. The hotel's dining options for its canine guests include chicken pot pie, apple dumpling and biscuits, and gravy-flavored dog treats.
Surf & Sand Resort (Laguna Beach, Calif.)
At theSurf & Sand Resort, dogs are greeted with their own personal letters, which detail dog-friendly walking routes, local restaurants, and beaches. Dogs get a complimentary bag of locally made, organic doggy cookies, and dog sitters and dog walkers are available upon request. A $100 cleaning fee is added to the room rate regardless of the length of stay.
US GRANT (San Diego, Calif.)
The US GRANT welcomes four-legged friends that weigh less than 40 pounds to downtown San Diego with a special bowl, dog bed, mat, and a pet welcome kit.
Fairmont Hotel (Vancouver, Canada)
Fairmont Hotel Vancouver's in-room pet dining menu offers mouthwatering treats, such as organic venison and cranberry pepperoni, organic beef granola bars, and turkey and spinach paw-stickers.
Fairmont Miramar Hotel & Bungalows (Santa Monica, Calif.)
Fairmont Miramar Hotel & Bungalows has partnered with Healthy Spot to offer a full menu of dog-friendly delights, from V-Dog vegetarian dog food and hormone-free, ranch-raised New Zealand venison to organic frozen yogurt and handmade artisan truffles.
See even more outrageous culinary pet vacations here
More from The Daily Meal

Old School Eats: Dining at the Oldest Restaurants in Europe

Around the World in 80 Desserts

How to Eat Like Olympian Misty May-Treanor While Traveling

Best Beach Eats Around the World