Ohio Olive Garden employee goes to hospital to support 8-year-old customer after brain surgery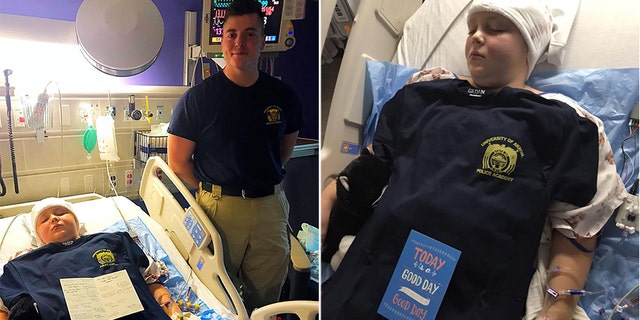 An Ohio Olive Garden employee went above and beyond his usual duties by visiting a young customer in the hospital after he had major surgery.
Drew Lewis, who works as a bartender and server at the Italian chain in Akron, shared the story on Facebook last week.
He said he was working on a day he doesn't normally, but it turned out to be one of the "best nights I've had at work in a long time."
WHATABURGER-LOVING TEXAS COUPLE THROW HALLOWEEN PARTY, DECORATE ENTIRE HOUSE LIKE FAST-FOOD CHAIN
Lewis was waiting on a family of six, with four "very wound up kids" and parents who seemed to be having a long day, so he focused his attention on the children to keep them entertained.
The server struck up a conversation with one of the boys, and 8-year-old, whom Lewis said reminded him of himself at that age.
He noticed the kid wearing a shirt that said "#TommyStrong" on it, so he decided to ask him about it.
"I was curious who Tommy was and [he] said [that] the T-shirt was for him. So later in the dinner I asked him what the shirt was for and he told me that he was getting brain surgery on Monday," Lewis explained in his post.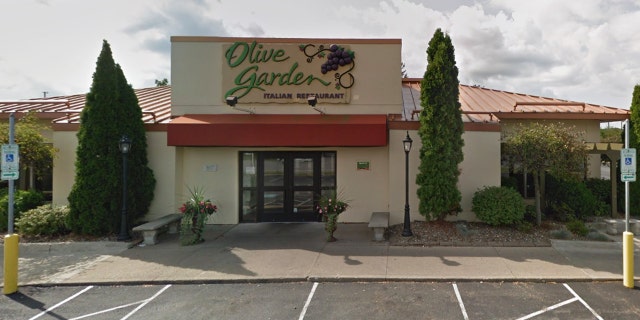 Lewis continued chatting with the boy over the course of dinner, asking about his surgery, what he likes to do and what he wants to be when he gets older.
"To my surprise he said he wanted to be a police officer and a professional chef," he wrote.
The two bonded, and before he left the restaurant, Tommy asked Lewis if he would come to the hospital when he got his surgery.
So on Oct. 22, Lewis came to support Tommy Gallagher, who according to Lewis had a successful seven-and-a-half hour surgery and is expected to make a full recovery.
FOLLOW US ON FACEBOOK FOR MORE FOX LIFESTYLE NEWS
He also came bearing gifts. Lewis, who happens to be a student at the University of Akron's police academy, brought Tommy a T-shirt from the school and a card signed by everyone in his class, Fox 8 reports.
"This kid showed me how to be strong and handle the [adversity] life throws at you. Get well soon Tommy Gallagher," Lewis wrote.