North Carolina Chick-fil-A opening dining area only for first responders, emergency workers: 'We are so thankful'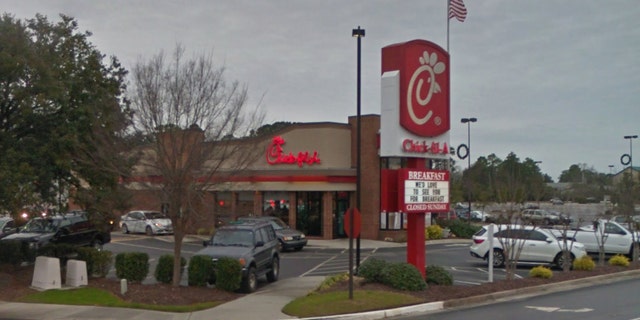 A Chick-fil-A in Wilmington, N.C., is opening its doors for the first time since Florence hit — but only for extra special customers.
The Chick-fil-A location on Oleander Drive, which has been closed since last Wednesday, announced on Facebook that it would reopen from 10 a.m. to 4:30 p.m. on Thursday to the general public, but only for drive-thru orders. The dining room, on the other hand, would be open exclusively for first responders, emergency workers and linemen, who are all welcome to enjoy a hard-earned meal at no charge.
RESTUARANT EMPLOYEES SURPRISE COWORKER WITH NEW CAR FOR HIS BIRTHDAY
"All first responders, emergency personnel, and linemen are invited to join us for a free meal. We will have our dining room open for you," the restaurant wrote. "We are so thankful for your hard work and proud of our community as we work to rebuild, together."
As the restaurant gets up and running again, management tells Fox News that only a limited menu will be availalbe— Original Chick-fil-A sandwiches, nuggets and fries — but food will be free of charge to first responders, law enforcement, National Guard members, linemen and emergency personnel.
"We wanted to provide yet another place for responders to use the restroom, get a hot meal and cold drink, and rest out of the hot sun," the restaurant said in a statement to Fox News.
"[Chick-fil-A Oleander owner] Mr. Mike Perdue and our whole staff are very thankful to all who are serving our community and we would love the opportunity to give back to all those who are giving their time to serve Wilmington and the surrounding areas."
NORTH CAROLINA CHICK-FIL-A WORKERS, DINERS PRAY FOR STAFFER BATTLING CANCER IN VIRAL VIDEO
The Oleander Chick-fil-A isn't the only location stepping up to help victims of Hurricane Florence, either. A Chick-fil-A restaurant in Raleigh opened on Sunday to prepare food and help with relief efforts amid the storm.
"While Chick-fil-A restaurants are always closed for business on Sunday, some local restaurant teams volunteer to serve their communities in times of crisis," Chick-fil-A stated of the Raleigh restaurant's efforts.
"Grateful for an AWESOME team that not only have hearts for serving our guests everyday but have hearts for serving the community as well," added the restaurant's management.