New tequila-flavored beer to hit the US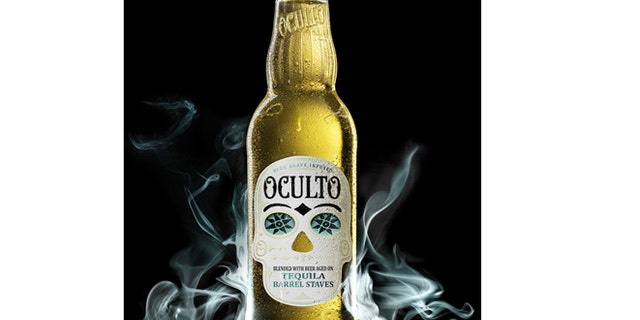 Anheuser-Busch announced plans to launch a tequila-flavored beer in the U.S. next year to attract younger drinkers who like Mexican beer yet have a taste for the hard stuff.
Called Oculto, the beer will be made with blue agave, which is also used to make tequila, blended with beer aged with wood from tequila barrels, the Wall Street Journal reports.
While there's no actual tequila in the drink, it will have an alcohol content of 6 percent, more than the 4 percent to 5 percent of typical of American beers.
It will also have some cool packaging. The name Oculto is etched into a white skull and the logo turns fluorescent and the skull's empty eyes glow green when the bottle is cold.
This isn't the first tequila-flavored beer to hit the market. Heineken USA began selling a tequila-flavored beer in Florida and Georgia called Desperados, and plans to sell it nationally in 2015.
The Journal notes that Mexican beer sales are on the rise, as beer sales overall are on the decline. According to Euromonitor, U.S. sales volumes of spirits have grown at an annual rate of 2.4 percent over the past five years while beer has fallen 1.2 percent.