New Mexico Dunkin' Donuts kicked out professor because of racism, man claims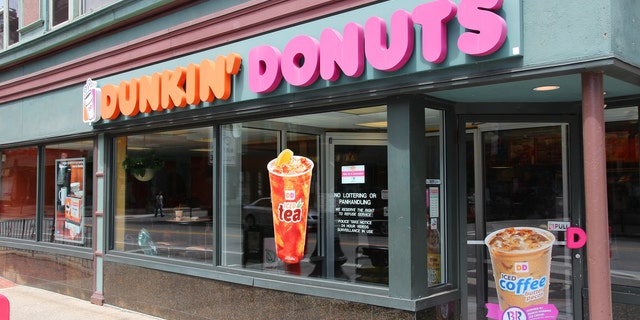 NEWYou can now listen to Fox News articles!
A part-time University of New Mexico professor is claiming a Dunkin' Donuts employee kicked him out of the store because of racism.
Dr. Timothy Nelson, who also works as a racial justice director, was visiting a Dunkin' Donuts last week while he waited for his car to be serviced at the Firestone next door, KRQE reports.
"That's when I went into Dunkin' Donuts because I didn't want to stay in Firestone," he said to KRQE.
DUNKIN' DONUTS EMPLOYEE SUSPENDED AFTER VIDEO SURFACES OF HIM DUMPING WATER ON SLEEPING CUSTOMER
Nelson said he ordered a drink and a donut and then sat down to use the store's WiFi.
The professor claims after he was seated, an employee approached him and told him he had been in the store too long.
"All I know is she said I was there too long," Nelson said to KRQE.
Nelson started to record the interaction on his phone.
In the recording, Nelson is heard asking the employee if they called the police. To which the employee argues that the professor is "causing a scene."
"You're done," the employee said.
"So what you're saying is, I only get an hour?" Nelson said.
"Timothy! Timothy. Goodbye," the employee said.
NEW JERSEY WOMAN CLAIMS HER DUNKIN' DONUTS SANDWICH WAS 'CRAWLING WITH BUGS': 'I WAS SCREAMING'
Nelson, who said he had been in the store for only an hour, feels racism was the reason the employee kicked him out.
When the police officers arrived, Nelson said they told him that Dunkin' Donuts can make their own business rules.
"I bought a coffee though!" Nelson said to the officers in the recording.
Nelson said he and the police officers handled the incident peacefully, but said the employee who called the police "put his life in danger" – referring to recent fatal incidents with police officers and people of color in the United States.
"For you to have called the police, you put my life in danger," he said, KRQE reports.
FOLLOW US ON FACEBOOK FOR MORE FOX LIFESTYLE NEWS
A spokesperson for the Dunkin' Donuts Corporation told Fox News they are aware of the incident and that the owner of that store location has reached out to Nelson.
"The franchisee who owns and operates the restaurant informs us that this incident resulted from a misunderstanding, and that she apologizes to the guest for the poor experience," the statement read.
The company also told Fox News that the franchisee who owns and operates that particular store has a general policy "to allow guests to remain in her restaurant no more than an hour after making a purchase," though that is not a national policy.