Nativity scene is created entirely out of cheddar cheese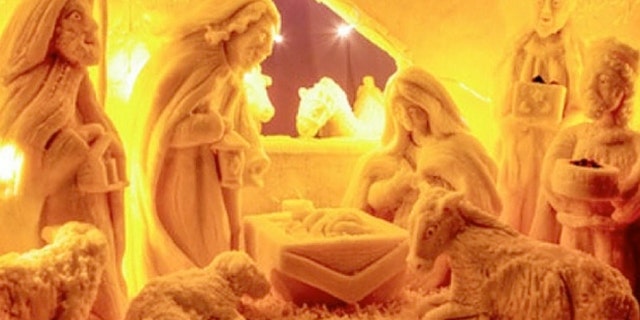 A food artist in the U.K. has created an amazing Nativity scene made entirely out of cheddar cheese.
Prudence Staite was commissioned by the Pilgrims Choice cheese company to carve the Christmas scene, which includes a baby Jesus, Mary, Joseph, crib, shepherds, sheep, cow, donkey, and three wise men bearing gifts​, reports SWNS.
The tiny crib that contains the baby even includes shaved cheese as straw.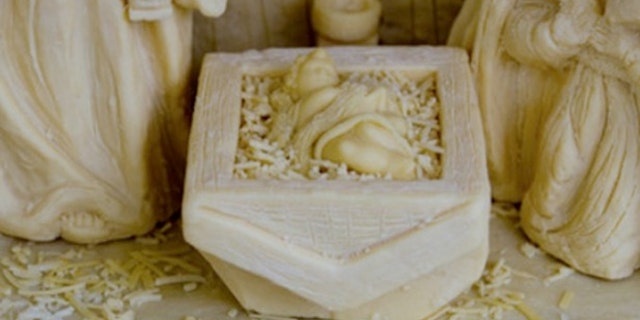 "We wanted to have some fun and create the ultimate Christmas nativity scene from our mature cheddar cheese," said a Pilgrims Choice spokesman.
Staite, a fine artist by trade, said there were no existing designs to follow but "wong it" by applying techniques for clay building. First she formed each of her figures out of chilled cheese and put them back in the refrigerator to firms up again. Then put the left over pieces into the food processor to make the fine elements like the straw. The whole thing was then assembled and held together with the help of toothpicks.
According to Staite, all the figures were hard to make and she needed a tiny magnifying glass to help carve out the details.
For the five-day project, she used 6 pounds and 4 ounces of mature cheddar to carve all those detailed faces, locks of hair, and straw manger setting. After completing her carving, she lit the scene with lights and set it on display at the Chill Factore in Manchester.