Mom says talking doll she bought for daughter called her a 'b----'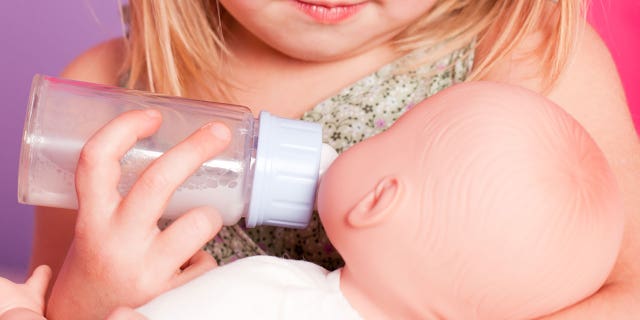 A mom in England is claiming that a local toy store sold her a doll with a dirty mouth.
Siobhan Fox, of Tamworth, England, claims that the walking, talking "My Little BABY Born" doll she purchased for her daughter Darcey says the words "you b----" instead of the pre-recorded phrases she was expecting.
THESE WERE THE HOTTEST TOYS OF THE HOLIDAY SEASON
"It's meant to say "mama," "dada" — it's totally not," Fox told The Sun.
Fox also uploaded a short video of the doll to YouTube, in which the doll is heard giggling, cooing, and allegedly spouting the aforementioned vulgar remark. WARNING: Doll's language may sound slightly NSFW.
Fox, 30, added that she and her husband had to take the doll away from their 2-year-old daughter shortly after she opened her present on Christmas.
"That was what she really wanted and I felt so awful taking it off her but I could not let her go out in public with the doll saying that," added Fox.
The doll, which is manufactured by a German toy company called Zapf Creation, is currently selling on the U.K. Toys 'R' Us website for 14.48 pounds, or a little under $20. (It is not available for purchase on the toy retailer's U.S. site.) The Toy's 'R' Us location where Fox purchased the doll has since offered her a refund or an exchange, but she's calling instead for a recall, The Sun reports.
GOOD SAMARITAN BUYS ENTIRE TOY SECTION OF GOODWILL STORE
Zapf Creation, meanwhile, has stated that the the doll's "baby babble sounds" were not intended to sound vulgar or offensive.
"At Zapf Creation we take all feedback very seriously," the company wrote in a statement obtained by Fox News. "Our BABY born products are created to be a fun introduction to imaginative parent-child play. The My Little BABY born Walks doll includes baby babble sounds that are in no way meant to represent language or cause any offense to users."
But as The Sun noted, this isn't the first time a parent has issued a complaint about this exact doll. In October, a mom in Birmingham, England, claimed her daughter was repeating the words "you b----," and accusing the doll of teaching her daughter the vulgar remark, the Birmingham Mail reported.
FOLLOW US ON FACEBOOK FOR MORE FOX LIFESTYLE NEWS
A customer who bought the doll from the British online retailer Argos also put forth the same complaint in an Oct. 2017 review, writing that the doll "sounds like she is swearing."