Modern manger set goes viral: 'Hipster Nativity' selling out fast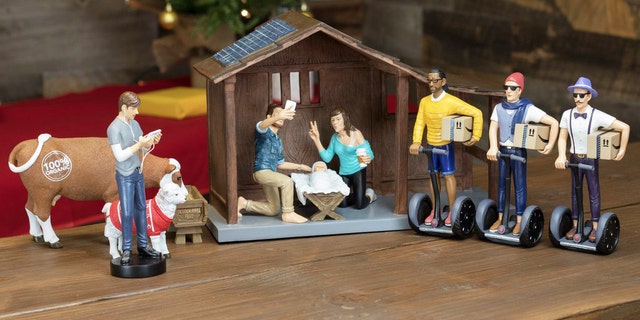 If you think some traditions are meant to stay, well, traditional--think again.
New for 2016, Christmas tables everywhere can showcase the "Hipster Nativity" scene which offers a modern twist on the classic decoration depicting the birth of Jesus Christ.
San Diego-based Modern Nativity is behind the modern manger set and it says this is what Jesus birthday would like in today's world. The updated version has Joseph in loose khakis, Mary in leggings and sneakers while posing for a pic with her takeaway coffee-- and three wise men on Segways carrying Amazon Prime boxes.
PREGNANT WAITRESS GETS $900 TIP, BLESSING JUST BEFORE THE HOLIDAYS
There's also a hipster shepherd with an iPad to spread the good word on Instagram, plus the "100% organic" cow is eating gluten-free feed, obviously, and the "stable" is solar powered.
"We were just talking about how different religious texts would be if set in modern times," co-founder Casey Wright told WSB-TV Atlanta 2. "It was really kind of a joke that got out of hand."
Wright said the idea for the stable derived from a conversation with his brother and business partner, Corey, and others. They sent the idea to an illustrator friend and began producing the sets a few months ago.
The company says millennials have been the biggest supporters (and purchasers) of the set so far. Wright, who runs a real estate marketing service with his brother, says he's encountered some backlash on social media and even received messages warning him that he's "going to hell."
FOR THE LATEST FEATURES FOLLOW FOX LIFESTYLE ON FACEBOOK NOW!
But, says Wright, most reactions have been overwhelmingly positive and the team has sold hundreds of sets to date. Fans of Modern Nativity are already suggesting other themes for future scenes. "We want to let the dust settle and then we'll see what will be the most fun," he said.
The plaster nativity scene, which is hand-painted, costs $129.99. Of 5,000 units produced, Wright says only around 1,000 are still available.