Milk spill turns Indiana creek white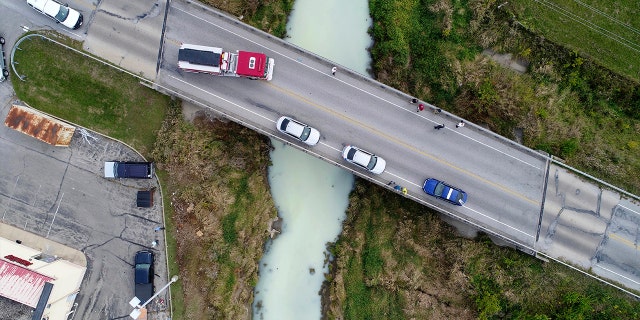 There's no use crying over spilled milk, even 300 gallons of it.
On Sept. 12, the Cicero Creek in Tipton, Ind. turned bright white from an accidental milk spill from a food processing plant nearby, The Associated Press reports. Authorities determined that roughly 300 gallons of milk gushed from the local Park 100 Foods plant into the body of water.
Fortunately, state environmental officials reported that the accident was not dangerous, AP said.
'PIZZA FATALITIES' REPORTED AFTER DIGIORNO, TOMBSTONE TRUCK CRASHES ON ARKANSAS HIGHWAY
While it would have been delightful if cookies were used to clean up the mess, cleanup crews instead utilized hay bales to contain the milk while removing 14,000 gallons of the creek's suddenly milky waters.
One day later, the creek was back to its normal color, according to Tipton County Emergency Management Director Chuck Bell.
Believe it or not, this is not the first major milk spill for the Hoosier state. In June, a truck carrying 48,000 gallons of milk crashed on the 1-645 interstate, backing up traffic for hours.
BUD LIGHT TRUCK FLIPS OVER IN ARIZONA, STATES DOT STARTS TWEETING JOKES
While such events may seem like freak accidents, major milk spills are surprisingly common, from small splashes to serious leaks, In May, 160 gallons of milk fell onto local roads when cartons tumbled from a New Jersey delivery truck. Likewise, in July, a truck flipped in Georgia and spilled nearly 50,000 gallons of milk onto a state highway.
Thanks to the swift action of emergency personnel, there's no chance that Tipton Creek will be confused with Indiana's (actual) White River, which flows south from the central part of the state.