McDonald's wants to sell the coffee 'gold standard'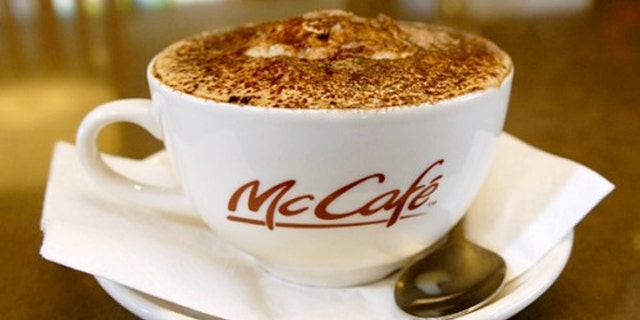 When you think of your afternoon latte, which chain do you think of first: Starbucks or McDonalds?
Wait, do you even think of McDonald's?
In case you haven't heard, there's a coffee war going on and apparently McDonald's is betting big on people going to the fast food chain for more than just Big Mac and Happy Meals.
According to Bloomberg News, McDonald's is making "coffee-driven visits" one of the chain's top priorities. Citing a document laying out the company's U.S. strategy for the next two years, franchisees will be asked to deliver "a gold-standard cup of coffee with every visit."
And earlier this month, McDonald's vowed to become the "envy" of rivals and said Starbucks was leading the "coffee wars."
But, while McDonald's does attract people for its drip coffees, sales of its lattes haven't been so hot, says Bloomberg.
And new research released by Goldman Sachs shows that millennials (aged 35 and younger) are far more likely to visit a Starbucks and buy something than other places like Dunkin Donuts, Chick-Fil-A, Burger King –and yes McDonald's.
McDonald's, which is struggling with slumping sales, has been trying to ad quality and variety to its line up with the addition of McCafe drinks, such as its pumpkin spice latte and white chocolate mocha flavored latte.
The chain is also trying to look and feel more like Starbucks, transforming some of its restaurants to look like the coffee chain by painting restaurants in earth tones and offering free WiFi.
Most of them fall short of comfy chairs and sofas where people can hang out--all day.
But considering how a group of elderly recently got treated at one New York City McDonald's when they lingered too long, the chain may want to rethink their concept.