McDonald's unveils new crew uniforms in muted colors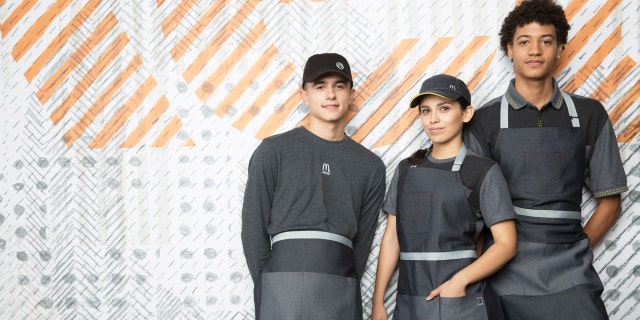 NEWYou can now listen to Fox News articles!
McDonald's has called upon high-end fashion designers to give their crew members' uniforms a modern facelift.
The result? Several-- but not quite 50-- shades of grey: dark grey polo shirts and t-shirts under long grey aprons, with the famous McDonald's arches barely visible.
The uniforms are designed by Waraire Boswell and Bindu Rivas, in collaboration with Way to Be, a certified uniform production and design company.
Boswell is a prominent high-end indie fashion designer, while Rivas is a lesser-known Indo-British designer. Boswell himself began his career as an employee at a McDonald's in California before moving on to fashion design, and he now dresses A-list stars for red carpet affairs.
SLIDESHOW: 11 THINGS YOU DIDN'T KNOW ABOUT MCDONALD'S
"As a former McDonald's crew member myself, I understand the design and functionality needs of the next generation of McDonald's uniforms, and I was personally inspired to design a look and feel that gives restaurant employees a greater level of confidence," Waraire Boswell said in a statement.
The uniforms, which will be rolled out late April, will be worn by 850,000 employees around the U.S.
"Our new collections focus on comfort, fit, functionality and contemporary professionalism, delivering a uniform that crew and managers will feel comfortable to work in and proud to wear," said Jez Langhorn, McDonald's Senior Director of HR in a statement.
"Beyond that, it's another step in the company's continuous effort to raise the bar by investing in people and improving the restaurant experience with a focus on hospitality."
Can fast food workers afford to eat the food they make?