McDonald's to debut rainbow-decorated fry boxes along DC's Capital Pride parade route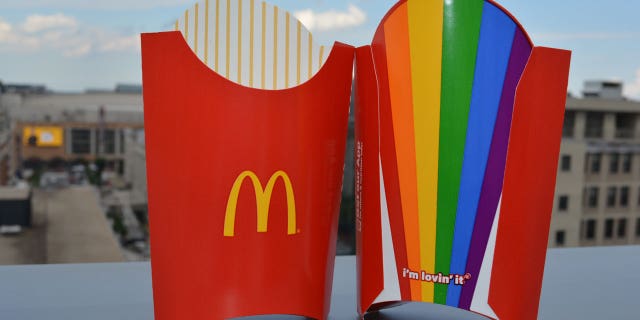 McDonald's customers in Washington, D.C., can expect their next order of fries to come with a message of inclusivity.
In celebration of the city's LGBTQ community, select McDonald's locations in the D.C. area will be serving large orders of french fries in rainbow-print packaging during Pride weekend.
The colorful fry boxes will be available between June 9 and June 11, but only while supplies last, and only at three specific McDonald's restaurants located along this year's Capital Pride Alliance's parade route.
MCDONALD'S AUSTRALIA ADDS FREQUENTLY REQUESTED 'SECRET ITEM' TO OFFICIAL MENU
The McDonald's Family Restaurants of Greater Washington, D.C., is also a sponsor of the Capital Pride Alliance — a non-profit organization dedicated to LGBTQ education and outreach — and will reportedly have a float in this year's parade on June 10.
Cathy Martin, co-chair of the McDonald's PRIDE Network and vice president/general manager of McDonald's Baltimore Washington Region, explained the company's new fry boxes in a press release obtained by Fox News.
"The rainbow fry boxes are a fun way to show our support of the LGBTQ community using one of McDonald's most iconic and recognizable items; however, these fry boxes are 'small potatoes' in the grand scheme of our commitment to this community," said Martin.
"We are proud to honor and celebrate the LGBTQ community, including our employees, customers and beyond, each and every day."
Participating McDonald's locations include: 1944 14th Street, NW; 1619 17th Street, NW; and 1916 M Street, NW.
FOLLOW US ON FACEBOOK FOR MORE FOX LIFESTYLE NEWS
This year's Capital Pride parade is scheduled for June 10 between 4:30 and 7:30 p.m. Other Capital Pride weekend festivities include a rooftop pool party on June 8; an opening celebration on June 9; a block party and brunch on June 10, and the closing festival and concert on June 11.
McDonald's of Greater Washington, D.C. is also an official sponsor of the Capital Pride Block Party on June 10.