McDonald's removing cheeseburgers from Happy Meals in effort to reduce calories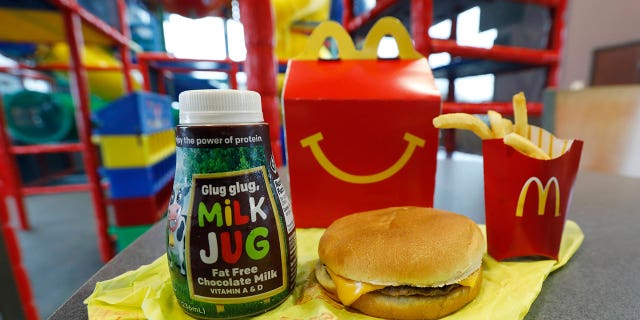 McDonald's is tweaking its beloved Happy Meal once again.
On Thursday, McDonald's announced plans to remove excess calories, sodium and saturated fat from its Happy Meal offerings, largely by reformulating or removing certain Happy Meal staples — namely cheeseburgers and chocolate milk — from the menu.
MCDONALD'S FIRES EMPLOYEE FOR CURSING AT STATE TROOPER
As part of its new initiative to "offer more balanced meals," McDonald's has vowed that, by 2022, at least 50 percent of its Happy Meal menu offerings in major markets across the world will be limited to 600 calories or less, with only 10 percent of those calories coming from saturated fats and 10 percent from added sugar. On-menu meal combinations will also be limited to 650 milligrams of sodium.
In the U.S., however, McDonald's has imposed even stricter criteria. According to a press release, "100 percent" of all Happy Meal combinations offered on menus across the country will clock in at 600 calories or less by June 2018. All will also conform to the company's new criteria for saturated fat and added sugar, while 78 percent will be compliant with the new sodium standards.
In addition, U.S. menus will no longer offer a cheeseburger Happy Meal on its official menu, even though the item will still be available "at the customer's request," McDonald's says. The same goes for chocolate milk, which will be removed as an on-menu option while the current recipe is reformulated to reduce excess sugars.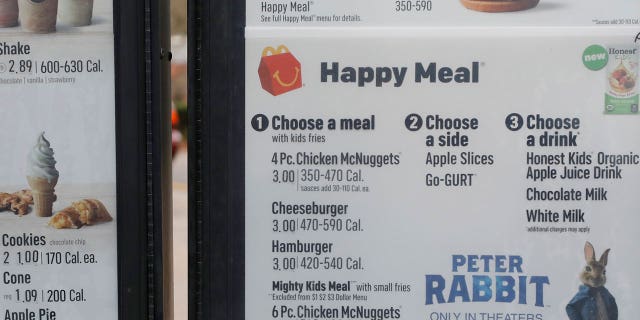 Chicken McNugget Happy Meals will also look a bit different as of June 2018, with kids-sized fries replacing the "small" order that is currently included.
THE MCDONALD'S AT SOUTH KOREA'S OLYMPIC PARK LOOKS JUST LIKE A VALUE MEAL
"Given our scale and reach, we hope these actions will bring more choices to consumers and uniquely benefit millions of families, which are important steps as we build a better McDonald's," said McDonald's president CEO Steve Easterbrook.
The American Heart Association (AHA) has since commended McDonald's for its efforts, via a statement obtained by NPR.
"This is an important step in the right direction and we look forward to seeing how today's announcement will lead to kids eating fewer calories and less sugar, saturated fat and sodium," said AHA CEO Nancy Brown.
FOLLOW US ON FACEBOOK FOR MORE FOX LIFESTYLE NEWS
2018's revised Happy Meal offerings will be the second major change to the kids' meals in less than a year, following an announcement in September that the chain would be swapping OUT its Minute Maid apple juices for a lower-sugar, lower-calorie replacement.