McDonald's patron barricades himself in bathroom, rips urinal off wall during police standoff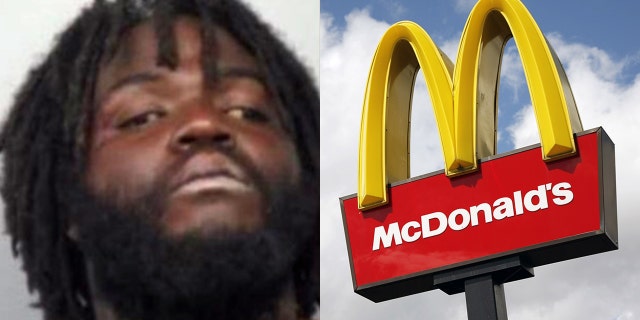 A man was taken into police custody at a McDonald's near Atlanta, Ga. after barricading himself in the bathroom Tuesday.
Derrick Hall, 36, caused a standoff with police and a SWAT team at a Gwinnett County location of the fast-food chain, after employees reported he had a knife and was possibly doing drugs, according to Fox 5.
WOMAN FINDS SPIDER IN MCDONALD'S CHICKEN SANDWICH
Officers tried to get Hall to surrender peacefully but were unsuccessful. He began threatening the authorities and trashing the bathroom, pulling a urinal off the wall and breaking a water pipe. Hall is also accused of swinging his knife at the police.
Authorities took out warrants for Hall on terrorist threats and criminal trespass, and the SWAT team had to deploy gas inside the restaurant to remove him. After being evaluated at the hospital, he was taken to the local jail, Fox 5 reported. No one was injured during the standoff.
FOLLOW US ON FACEBOOK FOR MORE FOX LIFESTYLE NEWS
This is the second time an incident has occurred at a McDonald's in the Atlanta area in the last week. A DeKalb County McDonald's was forced to close after someone tossed a smoke grenade through the drive-thru window Monday night. After paying for their food, the suspect threw the device into the restaurant and drove off.